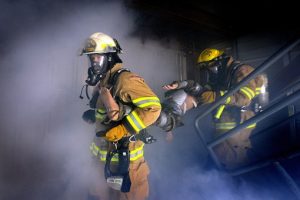 Everett, MA (July 14, 2018) – A fire raging through a multi-family home unit on Friday left two firefighters and one resident with serious injuries.  Around 2:00 pm Friday, fire crews with the Everett Fire Department responded to a three-alarm fire at the complex, located at 13 Morris Street.  Many residents were fleeing the complex as firefighters arrived.   The fire had originated from the basement, but quickly engulfed the entire building as fire personnel worked to extinguish the flames.
A woman trapped inside the building was rescued from the second floor.  She was transported to Massachusetts General Hospital with serious injuries sustained in the fire.  Two firefighters suffered second and third degree burns in the rescue effort. One firefighter was treated and released later Friday while another remained hospitalized with serious injuries as of Saturday morning.
In total, 19 tenants were affected by the fire and have been displaced from their homes.  The American Red Cross is working with victims to help find temporary shelter.  Fire chief Tony Carli said they are investigating the cause of the fire.  At this time, it is believed that a faulty electrical panel is to blame.  Carli said that the department is looking into possible issues with building and fire codes which may have contributed to the fire occurring.