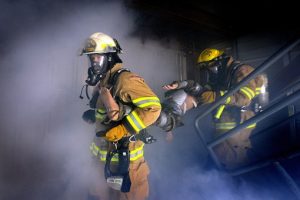 Everett, MA (July 14, 2018) – A fire raging through a multi-family home unit on Friday left two firefighters and one resident with serious injuries.  Around 2:00 pm Friday, fire crews with the Everett Fire Department responded to a three-alarm fire at the complex, located at 13 Morris Street.  Many residents were fleeing the complex as firefighters arrived.   The fire had originated from the basement, but quickly engulfed the entire building as fire personnel worked to extinguish the flames.
A woman trapped inside the building was rescued from the second floor.  She was transported to Massachusetts General Hospital with serious injuries sustained in the fire.  Two firefighters suffered second and third degree burns in the rescue effort. One firefighter was treated and released later Friday while another remained hospitalized with serious injuries as of Saturday morning.
In total, 19 tenants were affected by the fire and have been displaced from their homes.  The American Red Cross is working with victims to help find temporary shelter.  Fire chief Tony Carli said they are investigating the cause of the fire.  At this time, it is believed that a faulty electrical panel is to blame.  Carli said that the department is looking into possible issues with building and fire codes which may have contributed to the fire occurring.
Boston Personal Injury Attorneys
This fire is a tragic event for all affected, from those who are now homeless to the firefighters who were injured in the blaze.  It is a stark reminder that firefighters, police and other emergency officials literally put their livelihood on the line on a daily basis in order to protect the community and do their jobs.
Although the cause of this fire remains under investigation, it does appear that officials are looking into possibly faulty electrical wiring as well as issues with building and fire codes as contributing factors to the fire.   If it turns out that the fire was caused due to construction or other issues, those injured may have claims against the responsible entities.  Negligent construction is a cause of many injury accidents across our state and leads to multiple personal injury claims each year.   If construction does not meet certain minimum safety standards, then the builder may be held liable.  Similarly, if a building is not properly maintained after being built and it falls below safety guidelines, the owner can be held responsible for injuries suffered by occupants.
If you have been hurt due to the negligence of another, you need to secure good legal representation as soon as possible.  At the Jeffrey Glassman Injury Lawyers, we handle all types of personal injury accidents, including those caused by negligent construction.
If you or a loved one have suffered personal injuries due to someone else's negligence, call our Boston personal injury attorneys today at 617-367-2900 for a free consultation.
Note for readers: Information provided in this post is gathered from secondary sources and not independently confirmed for accuracy. Please bring to our attention any inaccuracies that may be included so they may be corrected, or information removed as requested.
DISCLAIMER: Information provided in this post is not intended to be used as legal or medical advice, nor disrespect the victims or families in any way.  We are providing this post for general information on everyday tragedies and presented in a manner to protect and honor the victims and their families. Minor differences can change the outcome of cases, based on jurisdictional laws.  The information provided in this post should not be relied upon as legal or medical advice. We suggest seeking assistance from legal or medical professionals for your personal circumstance, when necessary.