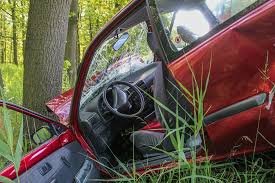 Brimfield, MA (July 13, 2018) – A driver is in critical condition following an accident in Brimfield on Thursday.  Police report that the crash occurred on East Hill Road Thursday afternoon.  Officers and rescue workers responded to the accident scene where they discovered a Dodge sports car had traveled off the road slammed into a tree.
Brimfield police and fire along with police and fire officials from nearby Warren all worked at the accident site to free the trapped Dodge driver, who has been identified only as a female.  The driver suffered critical, life-threatening injuries.  The patient was airlifted to UMass Memorial Hospital.  There is no additional word available on her condition at this time.
Police are still investigating the accident and have not yet determined a cause.