A recent hayride at Applecrest Farm in Hampton Falls, N.H., left a 51-year-old woman injured after she jumped in front of a carriage that was being towed by a runaway horse, according to Seacoast Online. The woman was taken to the Beth Israel Deaconess Medical Center in Boston and was listed in critical condition. She and her husband own the horses that are used for the hayrides at the farm.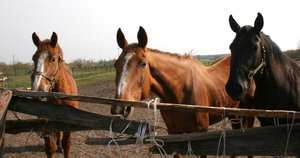 Attractions have an obligation to the public to provide safe entertainment and safe equipment. With the fall season kicking off, many residents and visitors will be participating in hayrides, haunted houses and other seasonal events. Attraction owners and operators are urged to keep safety as a top priority to prevent injury in Massachusetts. Remember to clear fire exits, remove hazards that could lead to injury and to always have a safe backup plan.
Our Boston personal injury attorneys understand that hayrides are a popular attraction during this time of year. Unfortunately, without the proper safety precautions, these relaxing rides can turn into a nightmare. According to officers, two carriages were heading in opposite directions when a part of one of the carriages malfunctioned, startling both horses. The operator of the runaway carriage was unable to regain control of the horse.
Witnesses report that the horses got spooked when an axle on the wheel came off just about one minute into the ride, and chaos ensued. The runaway horse and carriage were heading directly at the other carriage, which then frightened a third horse. Luckily, none of the carriages tipped over, but the driver of one of the carriages was launched from the buggy and dragged underneath.
The horse finally stopped when the carriage got caught between a rock and a tree. The driver was taken to Exeter Hospital.
Riders of the stopped carriage rushed to help the other set of runaway horses. This is when the 51-year-old woman was trampled on by a runaway horse and then by the carriage. Luckily, no passengers fell off that carriage. The woman doesn't blame the horses for the accident, instead citing the farm-owners' faulty wagon.
Lt. Gary Wood from the State Police Department reported that the Occupational Safety and Health Administration (OSHA) and the Rockingham County attorney's office are investigating the accident. OHSHA has been called in to investigate because the accident happened at a business.
This is similar to a recent accident that happened at an air show in Reno, Nev. Visitors showed up to enjoy a spectacular event, but when a P-51 "Galloping Ghost" Mustang apparently malfunctioned, it took a nosedive into the box seats of the VIP section. This is yet another example of faulty equipment causing visitor injury.
Companies have a responsibility to keep all visitors and employees safe by following a prescribed set of federal guidelines.
Continue reading "Malfunctioning Equipment Spooks Horses and Injures Visitors in New England Hayride Accident" »