On May 4, emergency personnel rescued people trapped in a collapse at the Edison Power Plant building in South Boston, according to officials.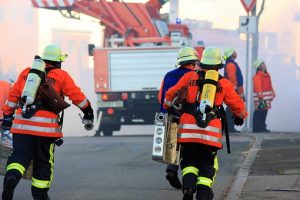 A spokesperson for the Boston Police Department said officers had been called to 776 Summer Street for a partial building collapse with "multiple people" trapped inside.
News reports showed Boston police, fire, and EMS personnel at the scene.
"We have multiple units on the scene for the structural collapse at the Edison Power Plant building in South Boston," the Boston EMS tweeted. "This remains an active incident with more details to follow."
In a subsequent tweet, the agency said two people had been transported to area hospitals.
"Structural collapse update: We can confirm two patient transports at this time, with personnel currently providing care to a third patient," the agency said.
One news source later reported that the third person had been taken to a hospital with life-threatening injuries.
Officials have not yet released information regarding how many people were in the building when it collapsed, the extent of any injuries, or the cause of the collapse.
A spokesperson for the Occupational Health and Safety Administration said the agency is responding to the accident scene.
The Edison Power Plant, also called the L Street Power Plant, is located near Castle Island across from Black Falcon Pier. Last year, Exelon Corp. sold the 100-year-old power plant to Redgate/Hilco, a business entity that planned on redeveloping the 15-acre site, according to the Boston Planning & Development Agency.
One report said the building was closed at the time of the collapse but was in the process of being demolished.
This is the second major partial building collapse in Boston in recent months. In March, a worker was killed when the Government Center Garage collapsed.
Building collapses tend to be rare, but they often cause catastrophic injuries and fatalities when they do occur.
Building collapses can be caused by weather events, fires, explosions, or faulty construction. Buildings with weak foundations, structural damage, or deficient construction materials are especially at risk of failure. While building collapses are usually sudden, warning signs include cracked or crumbling concrete, interior cracks, and uneven walls or floors.
Depending on the circumstances, property owners, construction companies, architects and material manufacturers can be held liable.
The Edison Power Plant collapse is a breaking news story. Jeffrey Glassman Injury Lawyers will keep you updated as more information about this tragedy becomes available.
If you or someone you know has been injured in a building collapse, the personal injury attorneys at Jeffrey Glassman Injury Lawyers LLC can help. You can schedule a free legal consultation at (617) 777-7777 or via our online form.