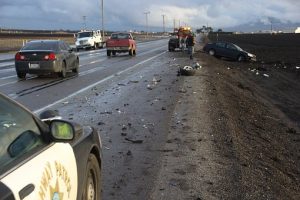 Hyannis, MA (July 9, 2018) – A three vehicle collision has been reported in Hyannis, Massachusetts Monday evening.  The accident took place at the corner of West Main and Pine Streets just before noon on Monday.  The crash caused one vehicle to roll over onto its roof, according to Hyannis Fire Lieutenant Jeffrey Huska.
Hyannis police along with fire and rescue officials came to West Main to assist an injured woman.  The woman received treatment on scene and was later transported to nearby Cape Cod Hospital for additional medical attention.  Her injuries are not believed to be life-threatening.
Traffic in the area was slowed for about an hour while officials worked the crash scene.  No charges were issued as a result of the accident, however, the investigation into the crash and its cause remains ongoing at this time.