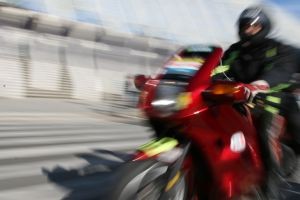 Pittsfield, MA (July 13, 2018) – A motorcyclist from New Hampshire suffered serious injuries on Thursday after a collision with a pickup truck on Route 8, near Cheshire Road.  Pittsfield police have identified the motorcyclist as Cassius Bradford of Stamford, NH.  Bradford was traveling north on Route 8 around 1:30 pm when he encountered a Ford pickup truck attempting to make a left turn out of a local business.  The truck and motorcycle collided in the roadway.  The truck driver has been identified by police as 56 year old John Bailey of Cheshire.
An ambulance transported Bradford to Berkshire Medical Center with arm and leg injuries.  Although they are serious, Bradford's injuries do not appear life-threatening according to police.  Officer David Hallas of the Berkshire Police Department investigated the crash along with the Pittsfield Police Department, Lanesborough Police Department and Massachusetts State Police.
Police are still investigating the crash and have asked for anyone with further information or who may have witnessed the crash to come forward in order to assist the investigation.