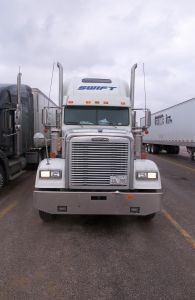 Chicopee, MA (July 9, 2018) – A tractor trailer accident occurred in Chicopee, Massachusetts late Sunday night.  Around 9:00 pm, emergency officials responded to a report of an accident involving a tractor trailer.  Chicopee Police quickly arrived on scene along with EMS and fire personnel.
According to police, at least one person was transported to an area hospital with injuries.  The extent and severity of injuries is unknown at this time.  There is no word on the cause of the collision.  One other person was evaluated on scene but refused further medical treatment.
Traffic experienced massive delays as a result of the crash.  The roadway has since reopened and traffic is moving smoothly as of Monday morning.  Chicopee police are actively investigating the crash at this time.