Half a dozen individuals were removed from their apartments in Chicopee in the early hours of Monday, April 16th due to fire. The Chicopee Fire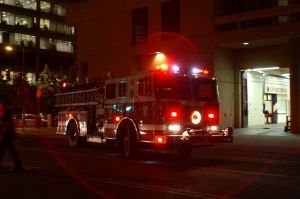 Department discovered that the fire started in the back of one of the top units from an electrical problem. The State Fire Marshal's Office was also involved in the investigation.
First responders arrived at the scene at 517 McKinstry Avenue to find that all the occupants  fled the burning building. The roof of the building was compromised in the fire. It took almost an hour for the fire to be tamed, and firefighters completely quenched the fire after multiple hours. The fire fight and clean up were handled by Holyoke, Springfield and Westover Air Reserve Base fire departments, although the bulk of the fight was handled by Chicopee firefighters.
The Pioneer Valley Chapter of the American Red Cross has come to the aid of the apartment occupants.
Apartment Fire Lawsuits
Apartment residents are entitled to take the building owner to court for harm after an apartment or building fire. Injuries from such fires include burns and smoke inhalations and would be the basis of a personal injury lawsuit. In order for the lawsuit to be successful, the apartment residents would need to establish that something in the building owner's or landlord's control was the cause of the fire and subsequent injuries. This would typically be a dangerous item like flammable products, or the building owner's negligence in maintaining aspects of the building. The owner must maintain operable smoke alarms and sprinklers and electrical equipment in proper working order.
The experienced Massachusetts personal injury attorneys at the Jeffrey Glassman Injury Lawyers understand the state and federal codes that buildings must comply with, and they will cross-reference these with the conditions of your building, if you are the victim of a building fire. Call today at (617) 777-7777 and tell us your story.
Note for readers: Information provided in this post is gathered from secondary sources and not independently confirmed for accuracy. Please bring to our attention any inaccuracies that may be included so they may be corrected, or information removed as requested.
DISCLAIMER: Information provided in this post is not intended to be used as legal or medical advice, nor disrespect the victims or families in any way.  We are providing this post for general information on everyday tragedies and presented in a manner to protect and honor the victims and their families.  Minor differences can change the outcome of cases, based on jurisdictional laws.  The information provided in this post should not be relied upon as legal or medical advice.  We suggest seeking assistance from legal or medical professionals for your personal circumstance, when necessary.