Half a dozen individuals were removed from their apartments in Chicopee in the early hours of Monday, April 16th due to fire. The Chicopee Fire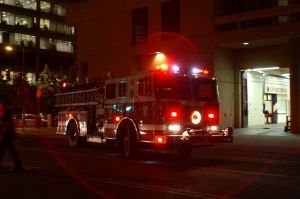 Department discovered that the fire started in the back of one of the top units from an electrical problem. The State Fire Marshal's Office was also involved in the investigation.
First responders arrived at the scene at 517 McKinstry Avenue to find that all the occupants  fled the burning building. The roof of the building was compromised in the fire. It took almost an hour for the fire to be tamed, and firefighters completely quenched the fire after multiple hours. The fire fight and clean up were handled by Holyoke, Springfield and Westover Air Reserve Base fire departments, although the bulk of the fight was handled by Chicopee firefighters.
The Pioneer Valley Chapter of the American Red Cross has come to the aid of the apartment occupants.