Investigators are trying to determine cause of a gas explosion and series of fires that rocked parts of Massachusetts last week and are focusing on the safety procedures and preparedness of Columbia Gas of Massachusetts.
NBC News reports thousands were allowed to return to their Massachusetts homes over the weekend after a gas leak set dozens of homes on fire. At least one person was killed and 25 others were injured. The Massachusetts Emergency Management Agency said some 8,600 gas meters and 15,000 power outages had been restored in Andover, North Andover and Lawrence.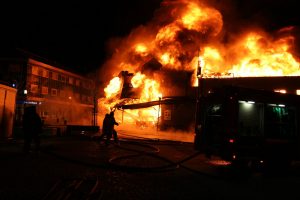 The National Transportation Safety Board was on scene to investigate, and determined the explosion had been caused by excessive pressure in the system. Fourteen pressure regulators in the area receive gas at 75 psi and dispense it at .5 psi. Low pressure can cause outages and so the system is designed to compensate for low pressure situations by releasing more gas. Investigators are looking at whether a sensor attached to a gas line that was capped and being taken out of service could have contributed to the over-pressure situation. The NTSB reports gas flowed into homes at significantly higher pressures than was necessary. Investigators are still working to determine the cause.