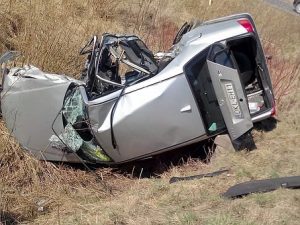 A crash on Route 6 this afternoon in Dennis, Massachusetts has left one-person suffering from life-threatening injuries.  A Ford F-150 was traveling westbound on Route 6, near exit 9 and the Bass River. Officials with the Dennis Fire Department say that the truck was pulling a boat at the time.   Suddenly, the truck was cut off by another vehicle attempting to merge into its lane.  As the driver swerved to avoid hitting the other vehicle, they lost control of the truck and the truck flipped over several times.
One of the injured victims in the truck was trapped underneath the vehicle for several minutes as emergency rescue workers tried to free him.  Emergency personnel from Yarmouth had to use lifting air bags to remove the man from the truck while also utilizing a chain saw to cut trees off of the truck's door.   Both injured men were taken to Cape Cod Hospital, where one has what are described as life-threatening injuries.
Traffic backed up for several miles due to the accident and was down to one lane for over an hour as officials worked the crash.  Massachusetts State Police are still investigating the crash.  No one has been charged at this time.