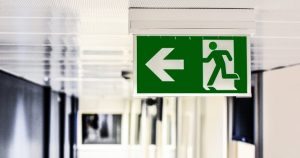 North Adams, MA (July 4, 2018) – Police in North Adams, Massachusetts have identified and charged a driver in a very serious pedestrian accident that occurred last month.
On June 24, a 33 year old  man, whose name has not been released, had just exited a parked car at 291 West Main Street.  Upon exiting, the pedestrian was struck by an oncoming vehicle.  He was airlifted from the crash scene by a medical helicopter and transported to Bay State Medical Center.  He currently remains at Bay State in critical condition.
On Tuesday police issued charges against the driver, identified as 31 year old Galeb Garhartt.  Garhartt, of Pownal, Vermont, is charged with a marked lanes violation and negligent operation of a motor vehicle.