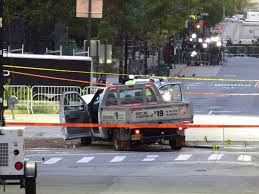 Two pickup trucks collided with each other Saturday night in Tewksbury, Massachusetts leaving one driver with serious injuries.  The collision occurred around 8:30 pm at the intersection of Old Stagecoach Road and Shawshen Street.  The two trucks involved have been identified as a Ford F-150 and a Ford F-250.
A witness, Phil Marotta, who lives near the accident scene says he believes that the F-250 was traveling the wrong way down a one way street when it collided with the F-150.  Marotta said the collision was so loud that it shook his house.  Tewksbury police would not independently verify Marotta's observations, saying only that the crash remained under further investigation Saturday night.
Tewksbury firefighters had to cut the top off of the F-150 in order to extricate the driver.  The F-150 driver, who has not been identified at this time, was transported by ambulance to a local hospital with serious injuries.  The F-250 driver was also transported to the hospital, although there is no word on their current condition.  Police have not said whether they expect to issues charges as a result of this crash.