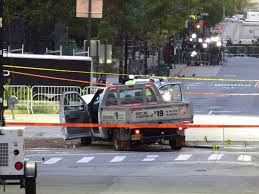 Two pickup trucks collided with each other Saturday night in Tewksbury, Massachusetts leaving one driver with serious injuries.  The collision occurred around 8:30 pm at the intersection of Old Stagecoach Road and Shawshen Street.  The two trucks involved have been identified as a Ford F-150 and a Ford F-250.
A witness, Phil Marotta, who lives near the accident scene says he believes that the F-250 was traveling the wrong way down a one way street when it collided with the F-150.  Marotta said the collision was so loud that it shook his house.  Tewksbury police would not independently verify Marotta's observations, saying only that the crash remained under further investigation Saturday night.
Tewksbury firefighters had to cut the top off of the F-150 in order to extricate the driver.  The F-150 driver, who has not been identified at this time, was transported by ambulance to a local hospital with serious injuries.  The F-250 driver was also transported to the hospital, although there is no word on their current condition.  Police have not said whether they expect to issues charges as a result of this crash.
Serious Injury Accidents
We are saddened to hear of this serious incident.  A serious car accident is not something that anyone ever plans for.  We must all drive in order to carry out our daily activities and we do not give a second thought that we might be seriously hurt when we leave home for the day.  However, the reality is that accidents happen daily and some of those accidents are serious.
If you have been hurt in a serious injury accident, you should never speak with the insurance company after the crash until you have hired a personal injury attorney.  Your attorney will talk to the adjuster for you and will make sure that your legal rights are protected.  If you attempt to handle the claim on your own, it is likely that you will make a misstep somewhere which will damage the value of your case.
The insurance company is hoping for a quick settlement to keep their costs as low as possible.  You want to maximize your recovery to ensure that your medical bills are paid and you are compensated for all damages, including lost wages and pain and suffering.  Your interests are opposed to those of the insurance company and you should always have legal representation in cases of serious injury.
At the Jeffrey Glassman Injury Lawyers, our personal injury attorneys have the experience to handle serious injury cases.  We have successfully handled thousands of Massachusetts car accident cases and recovered millions of dollars for our clients.  To speak with a member of our team today, please call us at 617-367-2900.
Note for readers: Information provided in this post is gathered from secondary sources and not independently confirmed for accuracy. Please bring to our attention any inaccuracies that may be included so they may be corrected, or information removed as requested.
DISCLAIMER: Information provided in this post is not intended to be used as legal or medical advice, nor disrespect the victims or families in any way.  We are providing this post for general information on everyday tragedies and presented in a manner to protect and honor the victims and their families. Minor differences can change the outcome of cases, based on jurisdictional laws.  The information provided in this post should not be relied upon as legal or medical advice. We suggest seeking assistance from legal or medical professionals for your personal circumstance, when necessary.