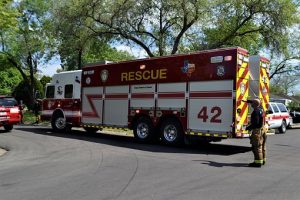 A midday crash on I-93 caused injuries and major traffic delays for motorists on Tuesday.  I-93 was the site of the crash on Route 128 SB at Exit 37.  The call came in to the Reading, Massachusetts Police and Fire Departments around noon.  First responders made their way out to the accident scene where they discovered a multiple car crash in the right lane of the highway.  There were also injuries reported in this collision, although it is not known at this time whether the injuries are serious or life-threatening to those involved.
Police and emergency personnel worked on the scene for a significant time tending to injured victims, clearing the scene of debris and working to resume normal traffic flow following the accident.  The right lanes of I-93 were blocked by this crash.  There were significant residual delays in traffic approaching the accident scene.  The delays persisted even after police cleared the accident scene and the involved vehicles were moved from the roadway.  There is no word on the identities of those involved, the injured victims or the cause of the crash.  The investigation remains ongoing.
Boston Personal Injury Lawyer
Car accidents are something that most Bostonians are familiar with simply from traveling around our city on a day to day basis.  Being involved in a car accident is never a pleasant experience by any means.  Accident victims face physical pain, financial hardship, loss of work and an uncertain future.
However, although being in an accident is never a positive experience, you do not have to feel like the accident has ruined your life.  There is hope for recovery for even the most serious accident victims.  Furthermore, you have legal rights that can and should be protected in the days and months following an accident.  If you have been injured by a negligent driver, the law affords you the right to recover for your pain and suffering, your lost wages from work as well as your out of pocket expenses including medical and prescription expenses.
Just because you have rights does not mean that they are automatically exercised. To protect your legal rights, you need an experienced Boston personal injury attorney who has what it takes to fight for you.  At the Jeffrey Glassman Injury Lawyers, we focus our practice on personal injury and helping car accident victims in their time of need.  Let us put our experience to work for you.
If you try to handle your accident case by yourself or with an inexperienced attorney you are literally putting your future on the line.  Give us a call today at 617-367-2900.  We do not charge a fee for legal consultations.  If we decide to take your case, we do not recover a fee unless you also recover for your injuries.  You have nothing to lose, we are standing by right now ready to assist you.
Note for readers: Information provided in this post is gathered from secondary sources and not independently confirmed for accuracy. Please bring to our attention any inaccuracies that may be included so they may be corrected, or information removed as requested.

DISCLAIMER: Information provided in this post is not intended to be used as legal or medical advice, nor disrespect the victims or families in any way.  We are providing this post for general information on everyday tragedies and presented in a manner to protect and honor the victims and their families. Minor differences can change the outcome of cases, based on jurisdictional laws.  The information provided in this post should not be relied upon as legal or medical advice. We suggest seeking assistance from legal or medical professionals for your personal circumstance, when necessary.