A motorcycle and car crashed into each other on April 22 in Hadley, causing serious injuries to the riders on the motorcycle.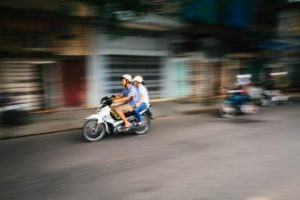 The riders were a man and a woman, residents of Ware. They were transported to Springfield's Baystate Medical Center in an ambulance. They were reported as being in critical condition, yet stable.
The crash involved a sedan and happened at about 4:30 p.m. on South Maple Street around the Mountain Farms Mall and Hampshire Mall. Hadley Police, Hadley Fire Department and Amherst Fire Department were all dispatched to the scene of the accident.
According to witness reports, the driver of the car did not stop when the motorcycle entered its path of travel.
The names of the victims and motor vehicle driver have not been released.
Motorcycle Injury Lawsuits
Motorcycles have less protection surrounding the driver than do motor vehicles. A motorcycle rider subjects himself or herself to the very real dangers of a car, truck, guard rails or other hazards on the road that can cause an accident. Any motorcycle injury is likely to be catastrophic. A catastrophic injury brings with it intense and expensive medical treatment, including missed work. The most catastrophic injuries can even lead to death despite medical intervention.
Typical motorcycle accident injuries include "road rash", severe lacerations, severe bruising, upper body injuries, traumatic brain injuries, spinal cord injuries, internal bleeding, broken bones and even paralysis.
Severe motorcycle injuries can also result in long-term medical treatment and rehabilitation therapy. In catastrophic circumstances injuries may lead to permanent disability.
If you or a loved one has experienced the injuries described here as a result of a motorcycle accident where a third party is at fault, you may have the right to collect compensation such as pain and suffering, medical expenses, and lost wages. Call the Law Offices of Jeffrey S. Glassman today at (617) 367-2900 to get started on your case.
Note for readers: Information provided in this post is gathered from secondary sources and not independently confirmed for accuracy. Please bring to our attention any inaccuracies that may be included so they may be corrected, or information removed as requested.
DISCLAIMER: Information provided in this post is not intended to be used as legal or medical advice, nor disrespect the victims or families in any way.  We are providing this post for general information on everyday tragedies and presented in a manner to protect and honor the victims and their families. Minor differences can change the outcome of cases, based on jurisdictional laws.  The information provided in this post should not be relied upon as legal or medical advice. We suggest seeking assistance from legal or medical professionals for your personal circumstance, when necessary.