Brockton police has identified 35 year-old Terrance Pyrtle as the driver of the SUV which ran a red light, crashed into a Brockton gas station and killed Terri Degennaro last week.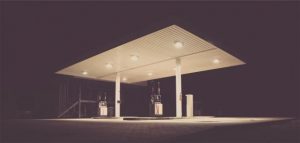 Pyrtle is a Taunton resident and has a lengthy history of running traffic signals going as far back as March 2001. He was cited most recently in June 2015 for a car accident. The fatal gas station accident occurred at Main Street and Perkins Avenue on April 19. Police are seeking to suspend his license with the Registry of Motor Vehicles.
Terri Degennaro, 54-years-old, died later in the day after initially declining to be transported to a hospital for treatment. The cause of her death was internal bleeding. She ultimately died at Beth Israel Hospital, after first seeking treatment at Brockton Hospital hours after the accident.
On the day of the fatal crash, Pyrtle was operating a black GMC Yukon SUV, traveling southbound on main street. He blew through a red light at the intersection located at Perkins Avenue. Degennaro was in her red Chevrolet Impala sedan traveling westbound on Perkins Avenue aiming to cross Main Street. That was when Pyrtle collided into her passenger side. The Impala spun around 180 degrees landing on the sidewalk on the corner of Main Street and South Street.
Pyrtle did not stop there, his SUV jumped the sidewalk ad careened into the Gas Depot parking lot, striking a gas pump. His SUV nearly missed a pedestrian in the gas station. Another vehicle, a black BMW pulled into the gas station moments before the impact. The driver backed up trying to avoid collision with the SUV, but was unsuccessful. The GMC Yukon stopped on top of the BMW's hood.
Damages in a Wrongful Death Lawsuit
Damages in a wrongful death lawsuit under Massachusetts law are governed by General Law, chapter 229, section 2.
The law allows family of the victim to recover reasonable compensation for: (i) the loss of the reasonable expectation of income the victim would have provided, (ii) "consortium damages," such as loss of companionship and care, (iii) pain and suffering, and (iv) funeral costs.
A minimum award of punitive damages in the amount of $5,000 is allowed by law. This is to punish the at fault driver. These are only awarded where it can be established that the death was the result of malicious, willful, wanton or reckless conduct, or gross negligence.
If your loved one has died in a car accident, and you believe a third party is at fault, please contact the Jeffrey Glassman Injury Lawyers at (617) 777-7777 to obtain the compensation to which you are entitled.
Note for readers: Information provided in this post is gathered from secondary sources and not independently confirmed for accuracy. Please bring to our attention any inaccuracies that may be included so they may be corrected, or information removed as requested.
DISCLAIMER: Information provided in this post is not intended to be used as legal or medical advice, nor disrespect the victims or families in any way.  We are providing this post for general information on everyday tragedies and presented in a manner to protect and honor the victims and their families. Minor differences can change the outcome of cases, based on jurisdictional laws.  The information provided in this post should not be relied upon as legal or medical advice. We suggest seeking assistance from legal or medical professionals for your personal circumstance, when necessary.