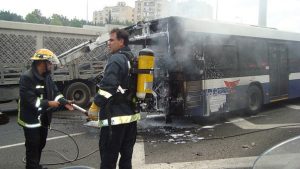 A bus accident can cause catastrophic injuries to victims. Buses are larger than the average vehicle on the road, and they have large blind spots and difficulty stopping. They also carry many passengers at a time, so a bus accident can cause injury to multiple victims.
On May 30, State Police received information about a vehicle accident involving a bus. The accident occurred on Route 95 southbound at Exit 30. The report of the accident was given to police around 9:00 in the morning, and emergency personnel arrived on the scene soon afterwards.
Upon arrival, they found that the bus was disabled in the right lane. Traffic became backed up to Exit 32 as first responders secured the scene. At least one individual sustained injuries, and medical care was given to this individual at the scene. The extent of their injuries is still being determined.