Enfield Police announced on Sunday that the I-91 ramp off the Massachusetts border will reopen Monday, April 16th. The ramp will reopen after being closed for nearly a week due to a rollover crash of a tractor-trailer causing an enormous oil spill on the highway. The driver of the tanker was identified as 32-year-old Jonathan Andrew Edwards. Reports indicate that he did not clear the turn on the ramp which caused the rollover. The tank appears to have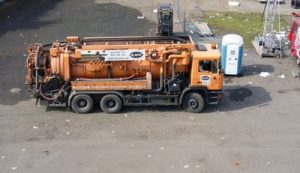 landed on the right shoulder. Mr. Edwards is a resident of West Springfield. He sustained injuries as a result of the rollover and was transported to St. Francis Hospital and Medical Center.
One exit, number 49, was already reopened as of late afternoon Sunday. The rest of the highway needed massive cleanup because the tanker spilled out the entirety of its front compartment and part of a second compartment, both of which carried gasoline. Nearly 3,000 gallons were cleaned up from the highway.
Three families with homes on Kalish Avenue had to leave their homes temporarily due to the gasoline spread. There were nearly six drinking wells in the area that were affected and the water was tested by the state to determine that they were not contaminated.
Tanker Truck Accidents
Tanker trucks are unique because these trucks carry hazardous materials and flammable items making them at imminent risk for explosion or fire. A tanker truck accident can result in serious burns or injury from breathing in the smoke nearby. Recovery from injuries unique to tanker truck accidents can be lengthy and expensive. It is important to call the Law Offices of Jeffrey S. Glassman right away if you were involved in a tanker truck accident, or if the materials from such an accident affected your life causing you injury. We can be reached 24/7 at (617) 777-7777.
Note for readers: Information provided in this post is gathered from secondary sources and not independently confirmed for accuracy. Please bring to our attention any inaccuracies that may be included so they may be corrected, or information removed as requested.
DISCLAIMER: Information provided in this post is not intended to be used as legal or medical advice, nor disrespect the victims or families in any way.  We are providing this post for general information on everyday tragedies and presented in a manner to protect and honor the victims and their families.  Minor differences can change the outcome of cases, based on jurisdictional laws.  The information provided in this post should not be relied upon as legal or medical advice.  We suggest seeking assistance from legal or medical professionals for your personal circumstance, when necessary.