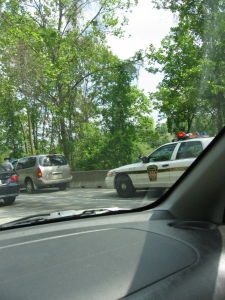 Boston, MA (July 6, 2018) – At least two hit and run accidents happened across Boston in the last 24 hours.  This is certainly not a trend that anyone hopes will continue for the upcoming weekend.
This accident occurred Thursday just after 1:00 am at 601 Park Street.  This time, BPD officer Karissa Scano received a call for a reported accident with injuries.   Officer Scano responded to Park Street within a matter of minutes.  She discovered a hit and run collision upon her arrival on scene.   Officer Scano quickly observed that the driver was injured in the hit and run and called for medical treatment.
EMS personnel administered medical care to the injured victim while Officer Scano conducted a traffic investigation.  Officers canvassed the area for signs of the hit and run vehicle but were met with negative results.  As of Friday morning, the search continues.  The vehicle is expected to have some type of damage, possibly to its front end.