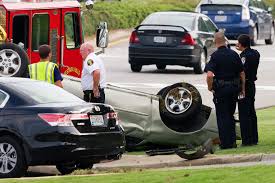 Boston, MA (June 30, 2018) – Boston Police were busy on Friday responding to numerous accident across the city.  In at least two of those accidents, they were faced with a hit and run situation.  In several other accidents, while the drivers remained on scene to speak with, at least one person was injured due to the negligence of another driver.
A multiple vehicle accident with injuries occurred at 1:30 pm Friday on Columbia Road in Boston.  Officer Paulo Pereira of the BPD was on routine patrol when the accident call was received.  Offier Pereira responded to the scene to provide assistance and investigate the crash.   Upon arrival, Officer Pereira located one person suffering from injuries that were sustained in the accident.  The injuries are not believed to be life-threatening.
Officer Pereira conducted a thorough crash investigation.  At this time, however, the cause of the crash on Columbia Road is unknown.  Police have not released the names of the drivers involved.