Four individuals in a Subaru led police on a car-chase through several neighborhoods today. They are now facing charges, and the pursuit began after they burglarized a grocery store, taking steaks and seafood.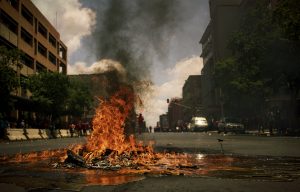 The individuals have been identified as Everett resident John Hickey, Billerica resident Dylan Brunetto, Pepperell resident Felicia Drew and Groton Resident Gregory Tammaro. They are all in their late 20s or early 30s. The pursuit initially began on southbound Interstate 495.
It was Littleton police who were first dispatched to the silver Subaru Crosstrek after reports of an erratic driver.
The supermarket that was the victim of the burglary was Shaw's Supermarket in Groton. After fleeing the supermarket, the individuals began throwing all of the stolen items outside the windows of the car. This included bottles of beer.
The Subaru eventually made its way to Route 2 from I-495, reaching speeds of 80 miles per hour. After existing at Route 111 in Harvard, the vehicle crashed into another vehicle, that of Wendy Ouelleter. This crash occurred in the downtown area of Acton on Route 111 and Windsor Avenue. At which point the car burst into flames.
Hit-and-Run Accident Lawsuits
By their very nature, a hit-and-run accident becomes difficult to prosecute in court. The culpable driver has fled the scene, and depending on the extent of the impact, the victim may not have had the forethought to record the driver's license plate. Ideally, if such an accident takes place there are other witnesses who did grab the license plate number, or nearby video surveillance that can be viewed to help identify the driver. Often, none of these is the case. In such a scenario the victim is left with only seeking redress through his or her uninsured or underinsured motorist insurance.
If, on the other hand, the driver is identified and can be cited or even arrested this bodes well for the victim. Where the driver accepts responsibility in criminal or traffic court, and is convicted, this can be used to the victim's benefit in a subsequent Massachusetts personal injury lawsuit. The conviction of even a traffic offense of hit-and-run may be sufficient to establish the breach of duty in the cause of action of negligence.
Negligence requires establishing that the driver at fault has a duty to the victim and breached that duty. Massachusetts state law actually creates a particular duty to stop after a car accident to provide help and to exchange contact and insurance information. If it can be shown that the driver's failure to stop caused or exacerbated the injury from the accident, then a breach of that statutory duty has been established.
If you been injured by a hit-and-run driver, and he or she has been identified, call the Jeffrey Glassman Injury Lawyers to begin your consultation today. Call (617) 777-7777 and tell us your story.
Note for readers: Information provided in this post is gathered from secondary sources and not independently confirmed for accuracy. Please bring to our attention any inaccuracies that may be included so they may be corrected, or information removed as requested.
DISCLAIMER: Information provided in this post is not intended to be used as legal or medical advice, nor disrespect the victims or families in any way.  We are providing this post for general information on everyday tragedies and presented in a manner to protect and honor the victims and their families. Minor differences can change the outcome of cases, based on jurisdictional laws.  The information provided in this post should not be relied upon as legal or medical advice. We suggest seeking assistance from legal or medical professionals for your personal circumstance, when necessary.