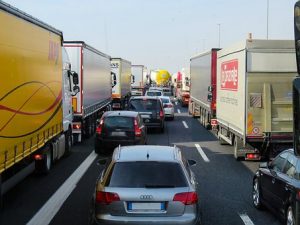 The Massachusetts Turnpike was the site of an injury accident on Monday evening.  Around 9:00 pm, a call came in to the Weston, Massachusetts Police headquarters regarding reports of an injury accident at 95 and 128 on the turnpike.  Patrol officers on duty were quickly sent out to the scene to conduct an investigation into the crash.
As officers quickly worked to secure the crash scene, traffic had to be diverted from the area.  This resulted in some delays for passing motorists, although the relatively late hour of the crash meant that delays were not as bad as they otherwise would have been.  Officers further took note that one person was injured in the crash.  Medical aid was given on scene.  There is no current update on the condition of those injured or the sequence of events leading up to the crash.  Identities of the drivers and any passengers involved in the crash were not immediately released by the Weston police.
Injury Accident
Highway collisions are some of the most common accidents that we encounter.  Highway collisions can have catastrophic consequences because they typically take place at higher speeds than those that occur within city limits.  Many times these collision are even fatal in nature.  If you have been hurt in a serious crash such as a highway collision, you are facing a number of uncertainties about your future.
in the near future you will receive a call from an insurance adjuster and a host of solicitation letters from attorneys.  If you have been hurt in the crash your first call should be to an experienced injury attorney at our firm.   We will deal with the insurance company so that you can concentrate on your healing and recovery from a serious car crash.
At the Jeffrey Glassman Injury Lawyers, we  have experience in accidents involving all types of vehicles and circumstances.  Our team of attorneys can help if you have been seriously injured in accident caused by the negligence of another driver. Our team is specially trained to help you through one of the most difficult times of your life.  We work on a contingency fee basis which means we recover nothing unless you also recover. There is absolutely no obligation on your part.
If you would like to speak with someone about your Massachusetts personal injury claim today, please give us a call at 617-367-2900.  The call is free and we would love to hear from you.  We are always open to take your call.
Note for readers: Information provided in this post is gathered from secondary sources and not independently confirmed for accuracy. Please bring to our attention any inaccuracies that may be included so they may be corrected, or information removed as requested.
DISCLAIMER: Information provided in this post is not intended to be used as legal or medical advice, nor disrespect the victims or families in any way.  We are providing this post for general information on everyday tragedies and presented in a manner to protect and honor the victims and their families. Minor differences can change the outcome of cases, based on jurisdictional laws.  The information provided in this post should not be relied upon as legal or medical advice. We suggest seeking assistance from legal or medical professionals for your personal circumstance, when necessary.