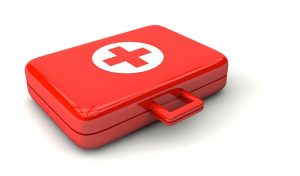 Boston Police have a tough job.  Every day, they respond to hundreds of calls across our city for assistance of all types.  Some calls are dangerous, other calls involve trauma and injuries to civilians.  As part of their job duties, they also respond to numerous calls regarding car accidents which occur here on a daily basis.
One such call came in to police headquarters just after 11:00 pm Tuesday evening.  Officer Nadia Siconolfi was on patrol in her assigned area when she received a dispatch regarding an injury accident that had just occurred on American Legion Highway.  Officer Siconolfi responded to the accident scene, where she found that one person had been injured in the crash.  She called for medical units to come to the accident and administer treatment to the victim.
Officer Siconolfi closed the area down while her investigation into the accident remained ongoing.  At this time, we do not know what caused the accident to occur or the identity of the drivers.  It does not appear that the injuries sustained in the collision were life-threatening which is always good to hear.  We will bring you any further information as we receive it.
Boston Car Crash
We are glad to hear that all involved in this crash escaped catastrophic injuries.  With many accidents resulting in severe injuries, the outcome is not always so fortunate.   In these cases, the damage from a car accident lingers long after your car is towed from the scene.  Long-lasting and debilitating injuries can have a huge impact on your quality of life following a crash.  In these times, you should seek the assistance of a personal injury attorney.
At the Jeffrey Glassman Injury Lawyers, we know about personal injury law because it is what we do.  All of our attorneys have years of experience in this area and together we are a strong team who is dedicated to putting in the work that it takes for you to get the results that you deserve from your case. We work on a contingency fee basis which means we recover nothing unless you also recover. There is absolutely no obligation on your part, even if we decide to take your case.
If you would like to speak with someone about your matter today, please give us a call at 617-367-2900.  The call is free and we are standing by now waiting to hear from you.
Note for readers: Information provided in this post is gathered from secondary sources and not independently confirmed for accuracy. Please bring to our attention any inaccuracies that may be included so they may be corrected, or information removed as requested.
DISCLAIMER: Information provided in this post is not intended to be used as legal or medical advice, nor disrespect the victims or families in any way.  We are providing this post for general information on everyday tragedies and presented in a manner to protect and honor the victims and their families. Minor differences can change the outcome of cases, based on jurisdictional laws.  The information provided in this post should not be relied upon as legal or medical advice. We suggest seeking assistance from legal or medical professionals for your personal circumstance, when necessary.