Boston Emergency Medical Services authorities report today that several first responders were dispatched to Soldiers Field Road.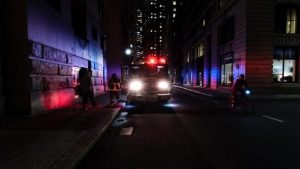 First responders were dispatch in response to a call for a motor vehicle accident.
The call came late in the evening today.
No further information is available at this time.
Paramedic Accident Injury Lawsuits
When there is a motor vehicle accident resulting in injuries, we automatically look for fault in one of the drivers, or even the conditions of the roadway. Sometimes we even look to a third-party like the manufacturer of the vehicle. However, other times the persons who are there in an accident to care for us can create an accident which results in injury too.
Emergency Medical Technicians and paramedics can act negligently. They are the first ones to arrive in vehicle accidents where an injury is reported or possible. Establishing negligence requires establishing an existing duty first. These first responders have a duty to ascertain the medical condition and handle the immediate symptoms at the scene within the scope of their training and education. This includes a duty to give safe and reliable transport to the nearest hospital. Their responsibility to a victim and patient begins at the scene of the accident and extends to the hospitals front door hand-off to medical personnel.
Types of negligent behavior that can result in injury include: taking too long to report to the scene of an accident, not having the proper life saving equipment on hand, not maintaining proper accident and treatment records, improper use of medical equipment on a patient, providing the incorrect medicine or treatment to a patient, not having the appropriate certifications for the treatment provided, and driving negligently during transport.
If you or a loved one has suffered injury due to ambulance or paramedic negligence, please contact the experienced Boston personal injury attorneys at the Law Offices of Jeffrey S. Glassman at (617) 367-2900 for a consultation today.
Note for readers: Information provided in this post is gathered from secondary sources and not independently confirmed for accuracy. Please bring to our attention any inaccuracies that may be included so they may be corrected, or information removed as requested.
DISCLAIMER: Information provided in this post is not intended to be used as legal or medical advice, nor disrespect the victims or families in any way.  We are providing this post for general information on everyday tragedies and presented in a manner to protect and honor the victims and their families. Minor differences can change the outcome of cases, based on jurisdictional laws.  The information provided in this post should not be relied upon as legal or medical advice. We suggest seeking assistance from legal or medical professionals for your personal circumstance, when necessary.