At about 5:30 a.m. today a tractor–trailer jack–knifed suddenly on Route 93.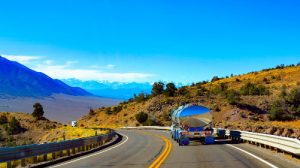 This happened on the route traveling southbound, just before Exit 36 in Woburn.
The accident forced the closure of the right two lanes of the highway.
Both lanes were reopened about an hour later.
Tractor-Trailer Accident Lawsuit
Commercial tractor-trailers and large trucks, operate under the regulations promulgated by the Department of Transportation's Federal Motor Carrier Safety Administration (FMCSA). Other federal entities regulate what trucks transports – the cargo in the shipment. The government, therefore, is tasked with creating the standards for all commercial vehicles that travel on public highways.
When a commercial vehicle, or tractor-trailer accident occurs, there is usually more than one reason for the accident. Typical causes of a commercial motor vehicle accident include the design or manufacture of equipment on the vehicle which failed the driver. The driver himself or herself may have received inadequate training which contributed to the accident. Roadway conditions are often the cause of trucker accidents, as are traffic signals that are not visible or not operating properly.
There are factors that may not be at all in control of the driver's employer like the driver's individuals actions. This includes being intoxicated while driving or being distracted while driving. Speeding, despite training otherwise is certainly a factor in commercial vehicle accidents.
Trucking company negligence can play a part when it does not properly schedule the travel of the trucker, forcing the operator to drive while fatigued. The company may also not provide proper guidance on how to navigate certain roadways for the driver's  and the public's safety.
If you have been injured in a tractor-trailer accident or other major truck accident, the National Transportation Safety Board will investigate the cause of your accident. The ultimate report on the causes of your crash will be crucial for you Massachusetts personal injury attorney to review. Contact the Jeffrey Glassman Injury Lawyers today at (617) 777-7777 to begin your case.