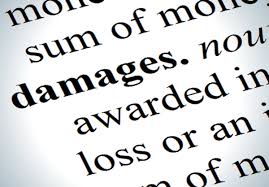 If you've been hurt in a Massachusetts car accident, you almost certainly have many questions and few answers.  Your future looks murky at best as you struggle just to make it through a day to day routine that you did not plan for and certainly did not want to happen.  As you go to doctor appointment after doctor appointment and you haven't been cleared to go back to work, you are probably wondering what you can actually recover from your Massachusetts personal injury case.
Massachusetts Damages Law
In car accidents as in every other civil case, an injured Plaintiff may be entitled to damages from a Defendant.  Damages is simply a legal term for the amount of money or other compensation you are asking to receive.  In Massachusetts personal injury cases there are several types of damages available to injured victims, including:
Economic Damages – these include your out of pocket medical expenses for treatment incurred because of your accident.
Property Damages – you are entitled to recover for damages sustained to your vehicle and any other personal property that you own which was damaged or destroyed in the accident
Lost Wages – you can receive compensation for time that you missed work due to your injuries, including time you had to take off to see the doctor
Pain and Suffering – non-economic damages to compensate you for the pain and inconvenience experienced as a result of your injuries
In addition to these damages, you can also ask the court to award you what is known as punitive damages.  Punitive damages are a special type of damages which are meant to essentially punish a wrongdoer for some type of egregious conduct.  The purpose of punitive damages is also to deter future similar behavior.  Punitive damages may be given in cases of especially reckless driving or OUI accidents.  Punitive damages are the exception rather than the norm and are rarely awarded in Massachusetts personal injury cases.  If they are awarded, the amount awarded is in the sole discretion of the judge or jury.
In Massachusetts, the state legislature has placed a limit on the amount of non-economic damages such as pain and suffering.  This amount is $500,000.00.  Therefore, an injured plaintiff's case is restricted to this number no matter how severe the accident.   Although this cap seems completely arbitrary, it is part of a growing movement related to tort reform which is going on across the nation.   Injured Plaintiffs may suffer as a result, depending on the severity of their accident.  If you are involved in a serious crash, it is always a good idea to speak with an experienced personal injury attorney right away.
Boston Personal Injury Attorneys
An important factor after any car accident is making the victim feel whole again.  Economic and non-economic damages are the method in which this goal is achieved.  At the Jeffrey Glassman Injury Lawyers, our attorneys have extensive experience in personal injury cases involving every type of damage available to a Plaintiff.  If you or a loved one would like to discuss your case with us, please call us at 617-367-2900 for a free consultation.
Note for readers: Information provided in this post is gathered from secondary sources and not independently confirmed for accuracy. Please bring to our attention any inaccuracies that may be included so they may be corrected, or information removed as requested.

DISCLAIMER: Information provided in this post is not intended to be used as legal or medical advice, nor disrespect the victims or families in any way.  We are providing this post for general information on everyday tragedies and presented in a manner to protect and honor the victims and their families. Minor differences can change the outcome of cases, based on jurisdictional laws.  The information provided in this post should not be relied upon as legal or medical advice. We suggest seeking assistance from legal or medical professionals for your personal circumstance, when necessary.