With what seems like never ending stream of excessively hot days this summer, there is no question that a lot of people will be hitting the water after work and on the weekends. For some this will be rowing or sailing on the Charles River.  For others it will be taking a boat out on the Bay or on the North or South Shores in the Greater Boston area.  While hitting the water can be a lot of fun, it can also result in significant personal injury or death, and extra care must be to take to avoid a serious tragedy.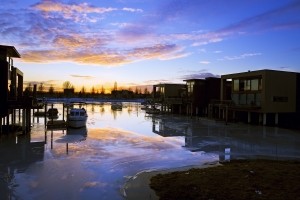 According to a recent news feature from Action News, an 8-year-old girl was seriously injured in a boating accident that occurred while she and her father were tubing.  For those that are unaware, tubing involves pulling an inner tube behind a fast moving boat with one or more riders in the tube depending on the size of the tube.   Basically, it is like water skiing without a requirement to know how to balance or water ski. All that a rider has to do is hold on and have fun.  However, this activity can also result in serious personal injury.
In this recent incident involving serious personal injury, the young girl and her father were both riding in the inner tube while being puled by the boat.  At some point while being pulled by the boat, their tube hit a large wake, and they were both ejected from the tube.  At this point, the driver of the boat they were in decided to circle back around to get the father and daughter but when he came back around, he did not make a wide enough turn and did not cut off the engine and ended up running over both riders with propeller spinning.  This resulted in serious personal injury.
The father sustained a serious personal injury as result of this tragic boating accident, and he is still in the hospital being treated.  The full extent of his injuries is not known as of this time, but they are thought to be serious in nature.  However, his daughter was also seriously injured and when the propeller of the moving boat made contact with her, her arm and leg were amputated.
Authorities are continuing to investigate why the driver of the boat circled back in such a way as to collide with both tube riders and why the engine was not placed in neutral to stop the propeller as it approached the riders.  However, authorities, which includes the local sheriff's department, have not released any findings of the investigation as of this time and has not released he name of the driver of the boat.
If you are involved in a accident of any kind in Boston that results in personal injury and the accident was not your fault, you should contact and experienced attorney as soon as possible to see if you have a valid claim for a full and appropriate financial recovery.
If you have suffered personal injury in Massachusetts, call Jeffrey Glassman Injury Lawyers for a free and confidential appointment — (617) 777-7777.
Additional Resources:Upstate NY girl loses arm and leg in boating accident, July 9, 2016, Action News, By News Desk
More Blog Entries:
Alcala v. Marriott Int'l, Inc. – Icy Sidewalk Slip-and-Fall Lawsuit to be Retried, June 27, 2016, Boston Child Injury Lawyer Blog