While hunting is a popular activity across New England, including parts of Massachusetts, there is obviously some degree of danger associated with the outdoor activity. Not only are you relying on the members of your own hunting party to act in a responsible manner, you may also have to contend with potentially negligent hunters in other groups sharing the woods with you. Sometimes their actions can result in serious personal injury or death.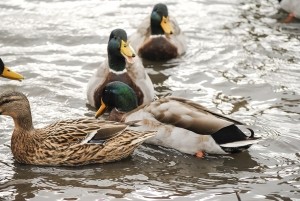 While being shot is one obvious danger, there is a wide variety of equipment many hunters use that can also be dangerous, ranging from tree stands for deer and bear hunters to boats utilized by many duck and other waterfowl hunters. According to a report form The Taunton Gazette, two hunters died when their camouflaged johnboat capsized into frigid water.
Authorities say their investigation has revealed that three hunters were in the johnboat during the winter months last year while hunting for ducks. Both men were considered avid duck hunters and had used the 16-foot metal skiff in the same body of water many times.
One local resident saw the metal boat floating upside down in the choppy water of the nearly frozen river and immediately called 911. First responders arrived with water rescue equipment, including cold-water dive suits. They first found the boat tangled in mooring lines and located the trailer at the boat ramp they believed was used to haul the boat to the river.
While emergency crews looked for any survivors, other officers went to the victim's home, which they were able to locate from the motor vehicle information, and learned that three men had left to go hunting early that morning.
Back at the scene of the deadly boat accident, divers found the bodies of two of the accident victims, and the United States Coast Guard sent a Jayhawk helicopter up and down the river to locate the third victim, whose body was not found in the capsized boat. They eventually located the man, who was suffering from hypothermia, on a small island and transported him to a local level-one trauma center, where was treated and survived the horrific ordeal.
As our Boston personal injury attorneys can explain, while many outdoor activities can be a lot of fun, including hunting, they can result in serious personal injury or death. If you have been involved in an serious accident in which you were injured that was not your fault, you should speak with an experienced injury lawyer as soon as possible to see if you have any rights to a full and appropriate financial recovery.
Obviously, it will be easier emotionally if the accident was caused by the negligence of a defendant you never met, but that is not always the case. Unfortunately, many accidents are caused by a close friend, and it is difficult to file a personal injury lawsuit against this person. However, even if your friend had adequate insurance to compensate you for the total damages caused in the accident, his or her insurance company may fight your claim and refuse to make a reasonable settlement offer. They are hoping you will not choose to file a civil personal injury lawsuit against a friend. However, despite your friendship, you may have suffered a significant personal injury, incurred thousands of dollars in unpaid medical bills, and have lost a substantial amount of time away from work.
This situation results in a true hardship, and friendship alone will not help take care of you and your family. For that reason, you should share your concerns with an experienced injury attorney.
If you are injured in an accident in Massachusetts, call Jeffrey Glassman Injury Lawyers for a free and confidential appointment — (617) 777-7777.
Additional Resources:
Two dead after boat capsizes in frigid Westport River, January 7, 2014, Taunton Gazette
More Blog Entries:
Hodson v. Taylor: Premises Liability Claims, March 25, 2015, Boston Injury Lawyer Blog