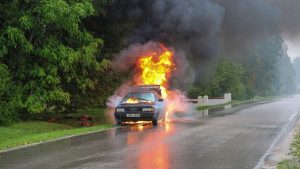 Lancaster, MA (July 4, 2018) – A crash in Lancaster, Massachusetts on Tuesday left an elderly man in the hospital with injuries but also thankful to still be alive.
Firefighters in Lancaster say that the man was traveling on I-190 south near Lancaster when his car suddenly veered off the road and into the woods.  The car hit several trees before coming to rest.  The vehicle then caught fire with the man still inside.  Several bystanders saw the accident and rushed to the man's aide.  They were able to pull him from the vehicle just before it became engulfed in flames.  This action almost certainly saved the man's life.
Medical workers came to the scene and evaluated the man for injuries.   He was transported to Umass Medical Center for further evaluation but is expected to be ok.   The Good Samaritans identities are not known according to Lancaster Fire Chief Michael Hanson.