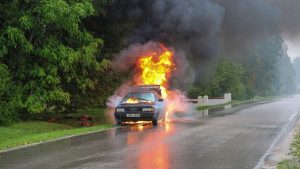 Lancaster, MA (July 4, 2018) – A crash in Lancaster, Massachusetts on Tuesday left an elderly man in the hospital with injuries but also thankful to still be alive.
Firefighters in Lancaster say that the man was traveling on I-190 south near Lancaster when his car suddenly veered off the road and into the woods.  The car hit several trees before coming to rest.  The vehicle then caught fire with the man still inside.  Several bystanders saw the accident and rushed to the man's aide.  They were able to pull him from the vehicle just before it became engulfed in flames.  This action almost certainly saved the man's life.
Medical workers came to the scene and evaluated the man for injuries.   He was transported to Umass Medical Center for further evaluation but is expected to be ok.   The Good Samaritans identities are not known according to Lancaster Fire Chief Michael Hanson.
The cause of the crash is under investigation by police.
Boston Car Accident Attorney
The citizens who witnessed this wreck acted in a heroic way to save the life of the injured driver.  Had it not been for their quick thinking and bravery this man would have likely died as a result of the crash.  We extend our thanks for the acts of those who worked to save a life on Tuesday.
This accident is a reminder that single vehicle collisions can sometimes have potentially tragic consequences.  Sometimes a single vehicle crash occurs purely due to driver negligence or recklessness such as speeding.  Other times, vehicles fail because of mechanical defects or due to negligent repairs performed by a body shop or auto repair service.
In this case, there is no immediate indication that the elderly driver was negligent in causing the crash to occur.  A full police investigation is needed in order to determine the reason for the crash.  Once the results of the investigation are in, a determination of liability can be made.
At the Law Offices of Jeffrey S. Glassman, we represent injured victims in all type of vehicle accidents, including single vehicle accidents which are not their fault.  If you or a loved one have suffered injuries in a Boston car accident, give us a call today at 617-367-2900 for a free consultation.
Note for readers: Information provided in this post is gathered from secondary sources and not independently confirmed for accuracy. Please bring to our attention any inaccuracies that may be included so they may be corrected, or information removed as requested.

DISCLAIMER: Information provided in this post is not intended to be used as legal or medical advice, nor disrespect the victims or families in any way.  We are providing this post for general information on everyday tragedies and presented in a manner to protect and honor the victims and their families. Minor differences can change the outcome of cases, based on jurisdictional laws.  The information provided in this post should not be relied upon as legal or medical advice. We suggest seeking assistance from legal or medical professionals for your personal circumstance, when necessary.