Wednesday afternoon, April 11, 2018, around 4:00 pm, police shot and killed a pit bull that was attacking a Roxbury woman on Eustis Street. Police were in the Boston neighborhood on Eustis Street investigating the shooting of two people that occurred days earlier, not related to this incident.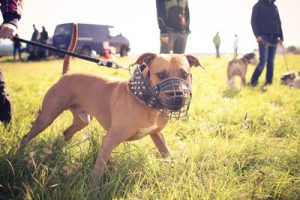 While police were asking questions about the previous shooting, they observed a woman walking a pit bull down the street. They then saw the dog over power the woman, break-free, and run away from his owner. Once free, the dog attacked another woman in the area.
Police tried to get to the dog to stop the attack, but the dog then threatened the officers, at which point the dog was shot. It was the only way to stop the attack. The dog was not killed, only injured.
The victim of the dog attack sustained serious injuries and was transported to a local area hospital for evaluation and treatment of her injuries.
Animal control has taken the dog in to custody and says he will survive the shot. The investigation in to the attack is ongoing.