Wednesday afternoon, April 11, 2018, around 4:00 pm, police shot and killed a pit bull that was attacking a Roxbury woman on Eustis Street. Police were in the Boston neighborhood on Eustis Street investigating the shooting of two people that occurred days earlier, not related to this incident.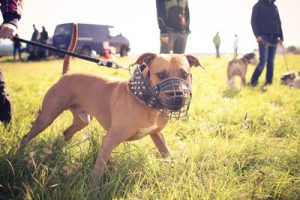 While police were asking questions about the previous shooting, they observed a woman walking a pit bull down the street. They then saw the dog over power the woman, break-free, and run away from his owner. Once free, the dog attacked another woman in the area.
Police tried to get to the dog to stop the attack, but the dog then threatened the officers, at which point the dog was shot. It was the only way to stop the attack. The dog was not killed, only injured.
The victim of the dog attack sustained serious injuries and was transported to a local area hospital for evaluation and treatment of her injuries.
Animal control has taken the dog in to custody and says he will survive the shot. The investigation in to the attack is ongoing.
Injuries Due to Dog Bites
It is a dog owners responsibility to make sure their dogs are secured and unable to get away or harm individuals. An owner can be liable for their dog biting another person when the dog causes injury. But, it is hard to prove if an owner is liable, especially if the injuries sustained were non-life-threatening. If it can be proven that the owner did their best to contain their dog, negligence may be hard to prove.
At the Law Offices of Jeffrey S. Glassman, we care about your case and want to help you get the compensation you deserve after you have been injured. Do you believe another party acted negligently and now you want legal assistance? If you or a loved one have been killed or injured in a car accident, please contact us at (617) 367-2900 as soon as possible.
Note for readers: Information provided in this post is gathered from secondary sources and not independently confirmed for accuracy. Please bring to our attention any inaccuracies that may be included so they may be corrected, or information removed as requested.
DISCLAIMER: Information provided in this post is not intended to be used as legal or medical advice, nor disrespect the victims or families in any way. We are providing this post for general information on everyday tragedies and presented in a manner to protect and honor the victims and their families. Minor differences can change the outcome of cases, based on jurisdictional laws. The information provided in this post should not be relied upon as legal or medical advice. We suggest seeking assistance from legal or medical professionals for your personal circumstance, when necessary.