Two years ago, the family of a 4-year-old boy killed in a 2011 escalator accident at the Auburn Mall Massachusetts reached a settlement with the escalator manufacturer and owner of the store where the escalator accident took place.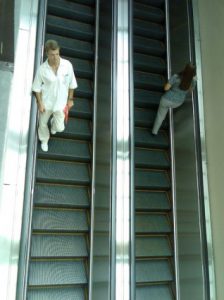 The child was fatally injured when a guardrail on the escalator pulled him through a gap between a plexiglass divider and the escalator and he fell 18 feet onto a display case below. He died at the hospital the next day of blunt force trauma to the head.
According to recent statistics published by the American Association for Justice, this case was indicative of so many escalator accidents that happen every year in that it:
Involved a young child;
Involved a fall.
The report indicated there are a growing number of escalator injuries in the U.S. every year, most involving children or the elderly, and a significant number involving not entrapment, but falls. Continue reading