"Turkey town" sees another car accident caused by a turkey flying through a windshield. On Friday the 13th of April, a 60-year old woman was driving on Route 25 in Wareham in the early hours of the morning when a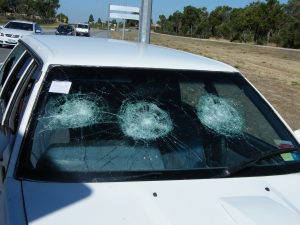 turkey smashed through her windshield completely destroying it; her Volvo XC90 was towed from the scene. She was treated by Wareham EMS and the State Police were called.
This is the third such incident in as many weeks in this town. Wareham is known as "turkey town" because of the neighboring turkey farms.
Animal Related Car Accidents
Although, it is usually easy to find fault in a car accident, i.e. one person failed to yield at a stop sign, with an animal or livestock accident more factors are involved. Insurance companies will want to make sure the driver did not intentionally run into or hit the animal. This is especially important in areas where livestock is known to roam free, or could be encountered – like in Wareham. Drivers in Wareham should use extra caution when driving in "Turkey town" to make sure they are still covered by insurance. The owner of the livestock or animal may also be liable to the car accident victim. This usually occurs when the animal escaped from an enclosure, if there was one at all. In certain cases, a city could be liable for not maintaining the roads or areas in such a way as to prevent the injuries suffered by the woman today. If the city has reason to know that there are packs of livestock that roam the town, measures should be taken to keep drivers safe.
If you have been involved in an animal or livestock related car accident, you need an experienced Massachusetts personal injury attorney to make sure the right person takes responsibility. The Law Offices of Jeffrey S. Glassman makes sure that the insurance companies don't try to blame you, and you get your full and fair compensation. Call us right away at (617) 367-2900, and tell us your story.
Note for readers: Information provided in this post is gathered from secondary sources and not independently confirmed for accuracy. Please bring to our attention any inaccuracies that may be included so they may be corrected, or information removed as requested.
DISCLAIMER: Information provided in this post is not intended to be used as legal or medical advice, nor disrespect the victims or families in any way. We are providing this post for general information on everyday tragedies and presented in a manner to protect and honor the victims and their families. Minor differences can change the outcome of cases, based on jurisdictional laws. The information provided in this post should not be relied upon as legal or medical advice. We suggest seeking assistance from legal or medical professionals for your personal circumstance, when necessary.