Monday morning, Rock Hill residents awoke to news that a school bus and a Sport Utility Vehicle had collided on the Interstate 91 south. The accident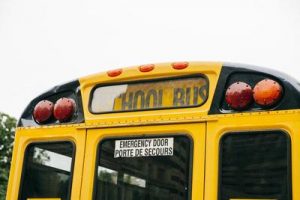 occurred on West Street before exit 23. Head injuries were reported requiring transport to the local hospital. The impact was severe, and caused great damage to the Sport Utility Vehicle. No word on whether there were occupants aboard the school bus, or who the injured parties were.
School Bus Accident Lawsuits
Families across the nation rely on school bus transportation for their children, and believe it is a safe form of travel. However, school bus accidents do occur and based on the reason for the accident, there are many entities who may be responsible for your child's injuries. These include, of course the driver or the school district. But, the victim's family needs to look further than that to the organization that owns the bus if the school is a private school. Sometimes, a school, whether public or private, will contract out the bus service. The contractor could be responsible in that case too. Even in that scenario the contractor may sub-contract the maintenance of the bus and that sub-contractor could be responsible for the injuries as well.
In any school bus accident it is highly likely that the victim is a young child who has many years of life to lead. If the injuries are severe, the child's quality of life will be greatly diminished. These are factors that any Massachusetts personal injury attorney needs to take into account when seeking compensation for not only the victim, but the family too. Expenses that need to be covered include future therapy and long-term care, and the potential earning capacity of the child that has been affected.
If you or your child have suffered injuries in a school bus accident do not hesitate to call the attorney at the Jeffrey Glassman Injury Lawyers at (617) 777-7777, and tell us your story.
Note for readers: Information provided in this post is gathered from secondary sources and not independently confirmed for accuracy. Please bring to our attention any inaccuracies that may be included so they may be corrected, or information removed as requested.
DISCLAIMER: Information provided in this post is not intended to be used as legal or medical advice, nor disrespect the victims or families in any way.  We are providing this post for general information on everyday tragedies and presented in a manner to protect and honor the victims and their families.  Minor differences can change the outcome of cases, based on jurisdictional laws.  The information provided in this post should not be relied upon as legal or medical advice.  We suggest seeking assistance from legal or medical professionals for your personal circumstance, when necessary.