At 3:18 a.m. today, Massachusetts State Police reported that an accident occurred between eastbound Route 290 and northbound Route 495.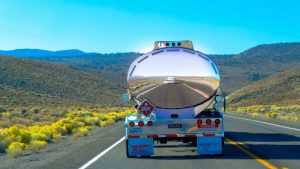 In Marlborough, a tractor-trailer rolled over at the steep curve. The accident caused a bottleneck on that interchange.
Massachusetts Department of Transportation and Marlbourgh Fire were on the scene. The trailer was removed by Ricky's Towing.
No further details have been released as to the driver's identity or cause of the rollover.
Rollover Accident Personal Injury Lawsuit
Even in a single–vehicle accident, where it was caused by a rollover, may result in a Massachusetts personal injury lawsuit. This is because, although no other driver is at fault for the accident, perhaps the vehicle manufacturer is. Rollover's occur when there is a defect on the vehicle. Assuming, there was no driver error and the motorist operated the vehicle safely on the curve, if it still rolled over then the equipment needs to be reviewed.
If the manufacture has produced a vehicle or tires that are prone to rollover even during normal use then it would be responsible to the injured driver in a products liability personal injury lawsuit. Even the middle-man, who simply installs or inspects new tires could be held liable. If the person was negligent in maintaining the tires or alignment system and the vehicle rolled over causing injury, that person would be liable to the victim. Although, it is counter-intuitive to think that brand new tires could not possibly be the fault of any accident it is still something to take a look at. If a new brand or line of tires has been installed, and has not been on all types of road services before, the manufacturer may be liable for not warning about potential harm in untested road conditions.
If you have been injured in a rollover accident and believe defect manufacturing or maintenance was at fault, please call the Jeffrey Glassman Injury Lawyers at (617) 777-7777 to tell us your story.
Note for readers: Information provided in this post is gathered from secondary sources and not independently confirmed for accuracy. Please bring to our attention any inaccuracies that may be included so they may be corrected, or information removed as requested.
DISCLAIMER: Information provided in this post is not intended to be used as legal or medical advice, nor disrespect the victims or families in any way.  We are providing this post for general information on everyday tragedies and presented in a manner to protect and honor the victims and their families. Minor differences can change the outcome of cases, based on jurisdictional laws.  The information provided in this post should not be relied upon as legal or medical advice. We suggest seeking assistance from legal or medical professionals for your personal circumstance, when necessary.