A new study from a Harvard Medical School hospital has found that recreational cannabis use impacts an individual's driving ability, even when the individual is not high from marijuana.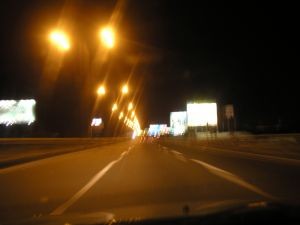 The dangerous behaviors of non-intoxicated drivers documented in the study included drivers exceeding the speed limit, blowing through red lights and crossing the centerline of roads. These are driving behaviors that can cause serious and even deadly car accidents.
In addition to linking chronic, heavy, recreational cannabis use to poorer driving performance in non-intoxicated individuals, the study also found that individuals who started using marijuana at age 16 or earlier exhibited greater impairment.
A specially designed driving simulation was used to obtain the data.
Previous studies have focused on a driver's impairment while under the influence of marijuana.
While other studies have looked at the direct effect of cannabis intoxication on driving, no other studies have analyzed the effects on driving in heavy marijuana users who are not high, according to a Jan. 14, 2020, statement by McLean.
The study, "Recreational Cannabis Use Impairs Driving Performance in the Absence of Acute Intoxication," was performed by researchers from McLean Hospital and their team from McLean's Cognitive and Clinical Neuroimaging Core and the Marijuana Investigations for Neuroscientific Discovery (MIND) program.
It was published Jan. 14, 2020, in the Drug and Alcohol Dependence journal.
Study highlights
Recreational marijuana use affects driving ability even when users are not intoxicated.
Chronic, heavy, recreational marijuana use is associated with worse driving performance in non-intoxicated drivers when compared to non-using healthy control participants.
Cannabis users had more accidents, drove at higher speeds, and drove through more red lights than non-users.
Earlier onset of marijuana use, which means regular use before age 16, was associated with poorer driving performance.
Findings could reflect increased impulsivity in individuals who initiate substance use during adolescence. Additional research is needed to explore this association.
Other studies, statistics
Marijuana use has expanded across the United States. As marijuana becomes legal in more and more states and individuals are using marijuana for medical or recreational purposes, usage is expected to grow.
Marijuana is legal in Massachusetts for people 21 years of age or older. However, it's illegal to drive under the influence of marijuana. More information about marijuana use in Massachusetts can be found here.
With the increased use of marijuana, there has been public concern about marijuana's impact on activities like driving, as well as other activities that present safety issues.
The proportion of marijuana-positive drivers involved in fatal crashes more than doubled from 8% in 2013 to 17% in 2014, according to the McLean study's background information.
Marijuana "significantly impairs" judgment, motor coordination and reaction time, according to recent statistics from the National Institute on Drug Abuse. Moreover, studies have found a direct relationship between blood THC concentration and impaired driving, NIDA said.
THC is the chemical responsible for the majority of marijuana's psychological effects and gives people a sensation of being "high."
NIDA also reported that marijuana is the illicit drug most frequently found in the blood of drivers involved in car accidents, including deadly crashes. The agency cited a pair of European studies that found that drivers with THC in their blood were about twice as likely to be responsible for a fatal crash than drivers who had not used drugs or alcohol.
People involved in motor vehicle accidents with THC in their blood, especially high levels of the chemical, are three to seven times more likely to be responsible for the accident than drivers who had not used drugs or alcohol, NIDA said.
Study specifics
The McLean researchers used a customized driving simulator to evaluate the potential impact of cannabis use on driving performance. When the study was conducted, marijuana users had not used for at least 12 hours and were not intoxicated.
In general, heavy marijuana users showed poorer driving performance when compared to non-users. For example, in the simulated driving exercise, marijuana users struck more pedestrians, surpassed the speed limit more often, made fewer stops at red lights, and crossed the center line more times.
The researchers stressed that they are not suggesting that all cannabis users will exhibit impaired driving.
When the researchers divided the marijuana users into groups based on when they started using cannabis, they found that "significant driving impairment" was detected and "completely localized" to people who began using marijuana regularly before age 16.
Based on prior studies showing a link between early substance use, including the use of cannabis, and diminished cognitive performance, the researchers said they were not surprised that performance differences on the driving simulator were mostly seen in the early-onset group.
Conclusions
The McLean researchers suggested that the study's findings that driving issues can occur even in individuals who aren't high should cause the public to reconsider how it thinks about impairment.
The role that marijuana plays in car crashes is a tricky one as marijuana can be detected in a person's body fluids for days or even weeks after intoxication and people often use marijuana in combination with alcohol, according to NIDA.
The only thing that's certain is that, as more states legalize marijuana, more change is on the way with regard to laws surrounding marijuana use and best practices for safety, both on and off the roadway.
If you believe you've been in a car accident with a drunk or marijuana-impaired driver, it's important that you speak with an experienced drunk driving victim's attorney in Boston as soon as possible. A personal injury attorney will help you understand your rights under the law, investigate your case and fight to make sure you receive the compensation you deserve.