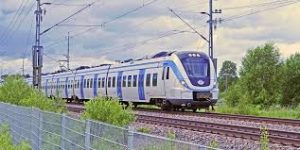 Lawrence, Massachusetts (June 30, 2018) – A man was struck and killed by an MBTA train on Friday morning in Lawrence, Massachusetts.  Reports of the crash came in just after 11:00 am regarding the man being struck by the train at 65 Merrimack Street.  The man, identified only as a 49 year old, was sitting on the platform tracks when the train came by and struck his legs.  He was pronounced dead at the scene by police and medical workers.
Both the Essex District Attorney's Office along with the MBTA are investigating the crash.  It is not clear if the man was at fault at this time.   No further details regarding this crash have been released.
Train and Commuter Accidents
Every day thousands of Massachusetts residents use the MBTA Commuter Rail to travel in and around Boston and the surrounding cities. According to statistics, the average weekday ridership of the MBTA Subway T system is about 1,154,774 people. With such a large number of people using both light rail and commuter services to travel around Boston and nearby areas, it is easy for a commuter to suffer injuries as a result of another person's negligence.
MBTA train operators, like all other vehicle operators, have a duty of reasonable car for train riders and commuters.  This duty means that the operator must operate the train safely and securely.  Many MBTA accidents occur because the train is being operated at an excessive speed or due to driver inattention.  MBTA accidents may also occur at drop off points such as a platform or stairs, due to unsafe conditions.  Slip and fall accidents are also common among commuter and train injuries.
At the Jeffrey Glassman Injury Lawyers, our attorneys have experience in personal injury actions involving the MBTA and other types of commuter accidents.  These cases may have special rules regarding who must be notified of a potential claim as well as certain time limits that can affect your case and should not be handled without the advice and aid of counsel. If you or a loved one has been involved in a commuter train or rail accident, you need an experienced attorney right away.
Call our Boston office at 617-367-2900 for a free consultation to speak with one of our attorneys.
Note for readers: Information provided in this post is gathered from secondary sources and not independently confirmed for accuracy. Please bring to our attention any inaccuracies that may be included so they may be corrected, or information removed as requested.

DISCLAIMER: Information provided in this post is not intended to be used as legal or medical advice, nor disrespect the victims or families in any way.  We are providing this post for general information on everyday tragedies and presented in a manner to protect and honor the victims and their families. Minor differences can change the outcome of cases, based on jurisdictional laws.  The information provided in this post should not be relied upon as legal or medical advice. We suggest seeking assistance from legal or medical professionals for your personal circumstance, when necessary.