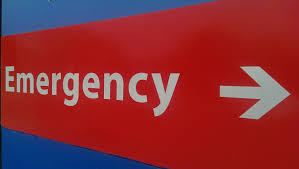 Worcester Police had a busy evening on Monday responding to many accidents which occurred across the city.  One such accident took place on Hamilton Street, a main thoroughfare which runs east to west from the center of the city.  This accident occurred in the 100 block of Hamilton at 9:00 pm.  Officers received a call with details that an injury accident involving multiple vehicles had just occurred at this location.
Officers responded to the call and, upon arrival, discovered the details in the call to be accurate.  They located at least one person suffering from injuries that were caused in the crash.  In this case, all involved in the crash remained on scene to speak with investigating officers.  The officers were able to obtain statements and complete their investigation into the accident.  Traffic was temporarily detoured by the accident scene.  After officers completed their crash investigation, all lanes of Hamilton were re-opened for passing motorists.  There is no word on the condition of the injured at this time.
Boston Injury Attorney
A car accident is sudden.  One minute you are driving down the road minding your own business and the next you find yourself lying in a hospital bed or in the back of an ambulance.  Your entire world can be turned upside down on a moment's notice.  Few activities carry the risk of death or serious injury like driving.  The risk must be accepted by all of us, however, because driving is simply a reality in today's society.  Accidents will occur and, inevitably, innocent drivers will suffer injuries due to the negligence of others.
If you are involved in an accident involving any type of injury, you should seek the services of a personal injury attorney.  At the Jeffrey Glassman Injury Lawyers, our firm focuses only on personal injury law.  We have decades of combined experience and a strong staff of attorneys and legal assistants to assist you with every aspect of your case.
Being in a car accident doesn't have to mean the end of your world.  Let us help you get back on your feet.  Call us today at 617-367-2900 for your free consultation with a Boston personal injury lawyer.  We offer free consultations and we do not get paid unless you recover.
Note for readers: Information provided in this post is gathered from secondary sources and not independently confirmed for accuracy. Please bring to our attention any inaccuracies that may be included so they may be corrected, or information removed as requested.

DISCLAIMER: Information provided in this post is not intended to be used as legal or medical advice, nor disrespect the victims or families in any way.  We are providing this post for general information on everyday tragedies and presented in a manner to protect and honor the victims and their families. Minor differences can change the outcome of cases, based on jurisdictional laws.  The information provided in this post should not be relied upon as legal or medical advice. We suggest seeking assistance from legal or medical professionals for your personal circumstance, when necessary.