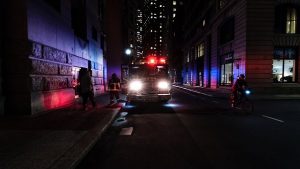 In what seems to be a very unfortunate trend of not accepting responsibility, Worcester Police were called to the scene of multiple hit and run accidents across the city on Monday night.   One of the numerous accidents occurred in the 1 Block of Lake Avenue at around 10:00 pm.  An injured victim was discovered in the roadway at Lake Avenue by responding officers to the crash scene.
The other driver was nowhere to be found upon a police investigation of the area.  The injured victim was treated by medical personnel and fortunately their injuries are not noted as life-threatening.  The Worcester Police Department is actively investigating this case as a hit and run accident under department case number 2018000066217.   As of this report, the driver has yet to be located.
Personal Injury Crash
Hit and run victims can often feel like they have no recourse in the days and weeks following a crash.   The truth of the matter is that police may not ever locate the driver that caused the crash in the first place.  Many of these drivers flee the scene before witnesses can obtain a license plate number or even a good description of the vehicle and its driver.
So what do you do in these accidents?  Is all hope lost?  Fortunately, the answer is you do have legal rights and there is hope following a hit and run crash.  In Massachusetts, all drivers are required to carry liability insurance.  If the hit and run driver is ever located, their insurance policy may be available to collect on to compensate you for your injuries.
Assuming that they are not located, almost all drivers carry what is known as uninsured motorist coverage.  Uninsured motorist coverage becomes effective when you are hit by a driver who either does not have insurance or who is never identified.  In a hit and run case, you can access your uninsured motorist coverage just like you could the other driver's coverage if they were to be found.  Uninsured motorist coverage provides almost all of the same features as any other insurance policy.
Due to the complexity of uninsured motorist issues, you must talk to a good personal injury attorney right away if you have suffered a hit and run crash.  You need an attorney with the experience and toughness to bring these difficult cases to a positive conclusion.  At the law office of Jeffrey S. Glassman, our team stands ready to help you.  Please call us today at 617-367-2900 for a free consultation. Our team is waiting to assist you.
Note for readers: Information provided in this post is gathered from secondary sources and not independently confirmed for accuracy. Please bring to our attention any inaccuracies that may be included so they may be corrected, or information removed as requested.

DISCLAIMER: Information provided in this post is not intended to be used as legal or medical advice, nor disrespect the victims or families in any way.  We are providing this post for general information on everyday tragedies and presented in a manner to protect and honor the victims and their families. Minor differences can change the outcome of cases, based on jurisdictional laws.  The information provided in this post should not be relied upon as legal or medical advice. We suggest seeking assistance from legal or medical professionals for your personal circumstance, when necessary.