The Worcester Police Department has revealed the tow truck workers involved in Friday afternoon's accident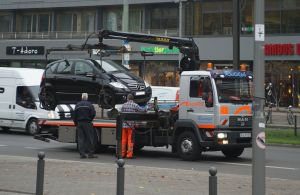 are Pipo's Tow Company proprietor, a man in his thirties, and his nearly sixty year old employee. They each call Worcester home.
The Department has provided further information on the injuries. The Pipo's Tow Company employee suffers from broken ribs and maybe a broken area of the shoulder. The young owner of the company suffers from head and torso injuries.
Reports now indicate that first responders discovered one man on the pavement with noticeable and severe head injuries causing blood flow. It is confirmed that the Worcester Police Department's Crash Reconstruction Unit is now handling the case.
Head Injury Accidents
An accident that results in blood loss from the head should be treated as a serious matter, and a brain injury should not be ruled out. An accident victim may have a traumatic brain injury from an object hitting the head and entering the brain, or from simply a collision that causes the brain to shake back and forth within the skull. Sometimes, accidents are so strong that they can cause tears in the brain.
A motor vehicle or truck accident that results in a brain injury is considered a personal injury claim. Sometimes an accident can result in a minor concussion that resolves itself in days or weeks without major impact on life activities. Regardless, if you have suffered even a mild traumatic brain injury, it is important to investigate your claim for possible damages award. The ramifications of a severe brain trauma are clear – emotional and financial toll on you and your family. An experienced Massachusetts personal injury attorney can begin a lawsuit on your behalf to get you back on the road to stability. Call the Law Offices of Jeffrey S. Glassman today at (617) 777-7777 and tell us your story.
Note for readers: Information provided in this post is gathered from secondary sources and not independently confirmed for accuracy. Please bring to our attention any inaccuracies that may be included so they may be corrected, or information removed as requested.
DISCLAIMER: Information provided in this post is not intended to be used as legal or medical advice, nor disrespect the victims or families in any way. We are providing this post for general information on everyday tragedies and presented in a manner to protect and honor the victims and their families. Minor differences can change the outcome of cases, based on jurisdictional laws. The information provided in this post should not be relied upon as legal or medical advice. We suggest seeking assistance from legal or medical professionals for your personal circumstance, when necessary.