Fire in Amherst Multi-Family Home Causes Injuries to One Person and Displaces 20 Others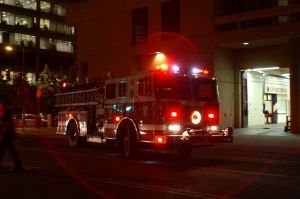 Firefighters responded to a fire in a multi-family home early Sunday morning, April 29, 2018 on Main Street.  The fire broke out around 2:55 am on the third story.
One person was found on the third floor and needed to be removed from the residence.  Some of the residents were pouring water on the fire trying to put it out, after the smoke alarms were going off.  Most of the residents did not need assistance leaving the home.
20 people living in the multi-family home lost their place to live and one other person sustained injuries in the fire.  The injured resident was taken to Bayside Medical Center for initial treatment of burns and smoke inhalation.  He was later transferred to the Connecticut Burn Center at Bridgeport Hospital.
Firefighters found it difficult to clear the home as the residents in the home were college students.  They could not be assured if there were guests in the home, which residents were home, and who was not yet home.  They were eventually able to clear the home and track down all of the residents.
The fire took 20 minutes to be put out with the help of Hadley, Belchertown, Northampton, and Pelham firefighters.  Also on scene to assist was the South County Ambulance Department.
Amherst fire examiners and the State Fire Marshal's office are still investigating the cause of the fire.  The condition of the injured man has not been provided at this time.
Injuries Caused by Fire
Fires can cause painful and lifelong injuries that will need constant medical attention and cause an extremely heavy financial burden.  You may lose wages and your capacity to earn a living due to your injuries.  This can also be a very stressful time for your family, not knowing what the future may hold.
At the Law Offices of Jeffrey S. Glassman, LLC, we care about your case and want to help you get the compensation you deserve after you have been injured.  Do you believe another party acted negligently and now you need legal assistance?  If you or a loved one have been killed or injured in a car accident, please contact the Law Offices of Jeffrey S. Glassman and request your free consultation at (617) 367-2900.
Note for readers: Information provided in this post is gathered from secondary sources and not independently confirmed for accuracy. Please bring to our attention any inaccuracies that may be included so they may be corrected, or information removed as requested.
 DISCLAIMER: Information provided in this post is not intended to be used as legal or medical advice, nor disrespect the victims or families in any way.  We are providing this post for general information on everyday tragedies and presented in a manner to protect and honor the victims and their families.  Minor differences can change the outcome of cases, based on jurisdictional laws.  The information provided in this post should not be relied upon as legal or medical advice.  We suggest seeking assistance from legal or medical professionals for your personal circumstance, when necessary.