On Thursday afternoon Boston firefighters were dispatched to a home for something other than a fire.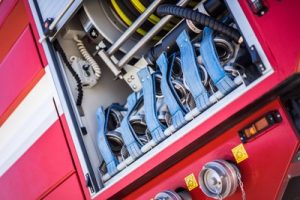 They were able to save a female resident after she was trapped underneath a grate in the rear of the house.
According to reports, she was attempting to keep warm.
Firefighters and Lawsuits
Firefighters face unsafe conditions daily, it is just a part of the job. Massachusetts firefighters, and other law enforcement officers who are hurt while on the job can obtain remedies under Massachusetts general law, chapter 41, sections 100 and 111F. This code section controls the worker's compensation system in Massachusetts, dealing with last earning and medical expense reimbursement. In fact, the law dictates that a firefighter hurt while in the line of duty can also file a personal injury lawsuit. This would be the case, for example, where a civilian fails to respect a street signal and collide with a fire truck injuring the firefighter. If the firefighter receives compensation from the state, and is then successful in a lawsuit, he or she would have to reimburse the state.
A firefighter's family can sue for wrongful death, even where the firefighter dies while putting out a fire. The fact that this is a potential risk of the job, does not preclude litigation against the third-party, whose actions are the cause of the incident. The lawsuit can take place if it can be established that the third-party was negligent in starting the fire which required the firefighter to attend to it and was killed in the process.
The Jeffrey Glassman Injury Lawyers has experience in dealing with cases for firefighting injuries and death. If you or a loved one has been severely injured, you should speak to one of our attorney at (617) 777-7777.
Note for readers: Information provided in this post is gathered from secondary sources and not independently confirmed for accuracy. Please bring to our attention any inaccuracies that may be included so they may be corrected, or information removed as requested.
DISCLAIMER: Information provided in this post is not intended to be used as legal or medical advice, nor disrespect the victims or families in any way.  We are providing this post for general information on everyday tragedies and presented in a manner to protect and honor the victims and their families.  Minor differences can change the outcome of cases, based on jurisdictional laws.  The information provided in this post should not be relied upon as legal or medical advice.  We suggest seeking assistance from legal or medical professionals for your personal circumstance, when necessary.