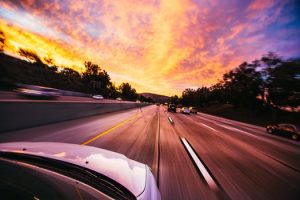 A three car crash involving injuries happened Thursday evening in Wrentham, Massachusetts at approximately 10:00 pm.  The crash occurred on Route 495 at Exit 1-A.  At the time of the incident, three vehicles were traveling in close proximity to each other through a work zone.  The road was already narrowed due to the ongoing construction in the area.  One driver crashed into the other setting off a chain reaction involving the third driver.
Police responded to the scene.  As could be expected, traffic was a nightmare through the area, which had already experienced delays due to construction.  The injured were treated by medical technicians on scene.  No indication of whether the injuries are life-threatening at this time.   Police have not released an official cause of the collision or the names of drivers involved.
Boston Car Wrecks
A car accident is a reminder of the dangers of daily driving.  Most of us are able to appreciate and accept the risk of driving because it is necessary to drive in our modern society.  We go about our day to day business thinking we will never be involved in a serious crash.  However, if it happens to you, you will have to deal with the reality and plan for the future.
In the immediate aftermath of a crash, your focus should be on healing and recovery.  You need to receive the best possible medical care for your injuries to ensure that your long term future after the accident is positive.
After medical treatment is secured, the next call should be to an experienced attorney.  You will get a lot of letters in the mail from attorneys who want your business.  However, you should never choose a personal injury attorney who does not have substantial experience in both taking and winning a personal injury case.
A personal injury case is different than any other area of law and requires a competent and dedicated professional to see the case through and ensure that you receive the compensation you deserve.  At the Jeffrey Glassman Injury Lawyers, our team is battle tested.  We have helped thousands of clients recover large injury awards through both negotiation and trial.
If you are looking to hire a Massachusetts personal injury lawyer, look no further than our office.  Please give us a call now at 617-367-2900 for your free consultation with one of our team members.
Note for readers: Information provided in this post is gathered from secondary sources and not independently confirmed for accuracy. Please bring to our attention any inaccuracies that may be included so they may be corrected, or information removed as requested.
DISCLAIMER: Information provided in this post is not intended to be used as legal or medical advice, nor disrespect the victims or families in any way.  We are providing this post for general information on everyday tragedies and presented in a manner to protect and honor the victims and their families. Minor differences can change the outcome of cases, based on jurisdictional laws.  The information provided in this post should not be relied upon as legal or medical advice. We suggest seeking assistance from legal or medical professionals for your personal circumstance, when necessary.