"Sean's Bill," a measure aimed at reducing the risk of Massachusetts ATV accidents involving young children, passed the House 141-12, the Daily News Tribune reported.
The bill changes the state's minimum age for operating an ATV from 10 to 14 and is named for Sean Kearney, an 8-year-old Waltham boy who was killed in an accident four years ago. State Rep. Peter Koutoujian, D-Waltham, said the child was driving a large ATV at a friend's house unsupervised when it flipped over and pinned him face down in the sand. The child was pinned beneath the 500-pound vehicle for more than half an hour.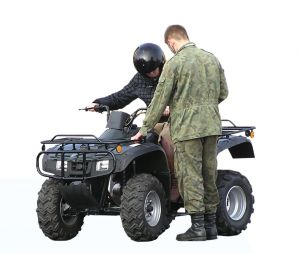 In 2004 and 2005, a total of 935 ATV accidents involving children occurred in Massachusetts. The Consumer Product Safety Commission reports that 2,500 children under the age of 16 have died in ATV accidents in the last two decades.
Just before Memorial Day, a 12-year-old Plymouth girl flipped an ATV into a cranberry bog but was saved. Memorial Day begins the long summer riding season and the most dangerous time of the year for ATV accidents.
"If springtime deaths and injuries are an indication of what's to come, we urge all ATV riders, young and old, to take all necessary safety precautions," said CPSC Chairman Inez Tenenbaum. "Far too many people are losing their lives and sustaining life-threatening injuries, which in many cases are preventable. CPSC is working diligently to ensure that the ATVs on the market meet mandatory standards and to promote safe riding practices."
Anyone injured in a Massachusetts ATV accident should contact a Boston accident attorney to discuss their rights. ATV accidents can involve premise liability, defective product or wrongful death litigation. Additionally, ATV manufacturers and distributors are now required by federal law to provide safety instruction to new riders and their family members. When a business fails to protect consumers in violation of law, it can and should be held responsible if a rider is seriously injured or killed.

If you have been injured in an ATV accident in the Boston area or elsewhere in Massachusetts, contact Jeffrey Glassman Injury Lawyers for a free and confidential appointment to discuss your rights. Call 877-617-5333.