Two People Injured After Crash in Holyoke on Route 5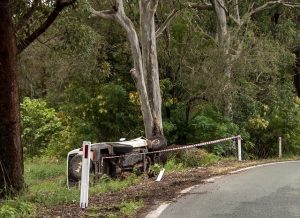 A crash on Route 5 in Holyoke occurred Tuesday afternoon, April 25, 2018 at around 3:30 pm.  A call was received stating that a pickup truck with two occupants had struck a tree near the intersection of Lincoln Street and Northampton Street.
Holyoke Fire Department responded to the scene to find the Nissan pickup truck had struck a tree hard enough to cause the two occupants to be stuck in the truck and unable to get themselves out.  The firefighters had to use heavy-duty tools in order to free the passengers.  They had to pull the top of the Nissan off using spreaders, rams, and ultimately hydraulic cutters in order to get one of the passengers out of the truck.
The impact caused the other passenger to be stuck under the dashboard.  The firefighters need to take the dashboard off the lap of the occupant by using their heavy-duty tools to lift it off and pull out the passenger.
Both of the people in the Nissan truck were taken to local-area hospitals for evaluation and treatment of their injuries.  The injuries have been classified as "non-life threatening."
Investigations as to the cause of the crash are still active and ongoing.  The victims' names and identities have not yet been released.
Single-Vehicle Accidents
Single-vehicle accidents are a rising concern due to the amount of distractions with which drivers are now being faced.  Distracted driving is the number one cause of single-vehicle accidents across the nation.  Other causes for single-vehicle accidents can be bad road conditions, poor visibility, vehicle malfunction, animals crossing the road, pieces of flying debris from other vehicles on the road, as well as many other sources.  The best way to avoid a single-vehicle accident is to maintain focus on the road and minimize all other distractions and multi-tasking.
We care about you and your case here at the Law Offices of Jeffrey S. Glassman, LLC.  After you've been injured, we would like to help you get the compensation you deserve.  Do you feel you need legal assistance because another person's negligence has caused you to be or a loved one to be injured?  If you or a loved one have been killed or injured in a car accident, please contact the Law Offices of Jeffrey S. Glassman, LLC at (888) 336-4751 as soon as possible.
Note for readers: Information provided in this post is gathered from secondary sources and not independently confirmed for accuracy. Please bring to our attention any inaccuracies that may be included so they may be corrected, or information removed as requested.
DISCLAIMER: Information provided in this post is not intended to be used as legal or medical advice, nor disrespect the victims or families in any way.  We are providing this post for general information on everyday tragedies and presented in a manner to protect and honor the victims and their families.  Minor differences can change the outcome of cases, based on jurisdictional laws.  The information provided in this post should not be relied upon as legal or medical advice.  We suggest seeking assistance from legal or medical professionals for your personal circumstance, when necessary.