Car Crashes in to Patrice Newton-Vanleer, Pinning Her to a Building and Killing Her
A Brockton woman, was struck by a vehicle Saturday night, April 21, 2018 and killed.  Her identity was recently confirmed as 32-year-old Patrice Newton-Vanleer by her family.  The accident happened around 9:30 pm at the intersection of Legion Street and Main Street in Brockton.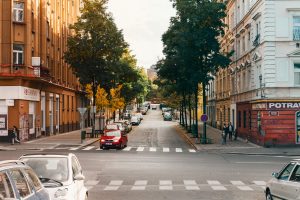 Patrice was waiting at the intersection of Legion Street and Main street to safely get across the street which was directly in front of her apartments.  As she waited, a car was driving towards her and went straight through the red light.  The vehicle then struck another car and spiraled uncontrollably until it landed on the sidewalk where Patrice was standing.
It has been reported that the car hit Patrice in to the building wall behind her and she was stuck between the building wall and the vehicle.  Emergency help arrived and took her to Brockton Hospital.  She was later declared deceased at the hospital, according to the District Attorney's Office in Plymouth County.
Good Samaritan Hospital received both of the drivers of the vehicles that were involved in the accident.  The District Attorney's Office along with the help of the Massachusetts State Police are investigating the cause of the crash.
Reckless or Negligent Driving
In the state of Massachusetts these two terms are not necessarily the same thing.  In order for there to be a charge of reckless driving, it must be proven that the driver intentionally endangered themselves and others, knowing that their behavior was posing a threat.  Negligent driving would also have to be proven that the operator was endangering themselves and others but was not aware that their behavior would pose a threat.  It is tricky to be able to differentiate between the two, which is why some investigations go on for long periods of time.
If you or a loved one have been injured, or killed, in any kind of automobile accident, be sure to hire the right attorney.  Having an expert attorney with the knowledge and experience to handle the legal complex system for you is mandatory.  When building a strong legal case, it will make all the difference.  The Law Offices of Jeffrey S. Glassman, LLC, understands what is needed and how to deal with issues that arise from accidents and insurance companies.  Contact the Law Offices of Jeffrey S. Glassman, LLC at (888) 336-4751 to find out how we can help you.
Note for readers: Information provided in this post is gathered from secondary sources and not independently confirmed for accuracy. Please bring to our attention any inaccuracies that may be included so they may be corrected, or information removed as requested.
DISCLAIMER: Information provided in this post is not intended to be used as legal or medical advice, nor disrespect the victims or families in any way.  We are providing this post for general information on everyday tragedies and presented in a manner to protect and honor the victims and their families.  Minor differences can change the outcome of cases, based on jurisdictional laws.  The information provided in this post should not be relied upon as legal or medical advice.  We suggest seeking assistance from legal or medical professionals for your personal circumstance, when necessary.