Actor and comedian Tracy Morgan will be hosting Saturday Night Live soon, and, as part of a promo for the upcoming show, Morgan can be seen with fellow cast members joking about the fact that he is still recovering from a traumatic brain injury (TBI) he recently suffered and for which he is still recovering.   Morgan was involved in a serious car accident that left him in a coma for eight days. Morgan said when he finally woke up and was told he had been in a serious car accident, he was just thrilled to learn the accident was not his fault. This type of joke at his own expense is very much in the style of his standup comedy.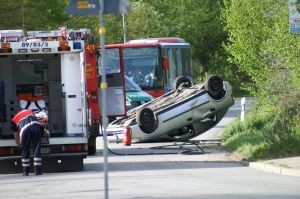 Morgan's car accident occurred in the summer of 2014 and left him with several broken bones as well as head trauma, which resulted in the traumatic brain injury.   He was riding in his limo at the time of the accident when a truck hit them from behind, causing the car crash.
In the promos for Saturday Night Live, Morgan joked about his need to go speech therapy and actually learn how to speak again following his accident and also joked about his issues with memory loss. While it may seem funny now for a comedian like Morgan to joke about his experience, he likely dealt with some very difficult and frustrating times during his long recovery process, which, as he has stated, is still very much ongoing.
Traumatic brain injury cases are one of the most difficult types of injuries with which victims and their families must deal, and the process can take a lifetime. The victim may need rehabilitation and therapy to learn how to speak again and how to control his or her hands, and any number of other tasks we take for granted. This is not only a frustrating process, but also an expensive one, and your Boston personal injury lawyer can help you by fighting for your right to a full and appropriate financial recovery following a serious accident that results in a traumatic brain injury to you or a loved one.
Fortunately, there have been many advances in the treatment of traumatic brain injury in the past decade, and many patients are able to live closer to a normal life than ever before. A lot of these advances in surgical intervention and rehabilitation techniques are a result of the many cases of serious head injures from the Global War on Terror. In the past, many TBI victims would never survive the initial injury. Now, more people are being successfully treated and being able to survive and eventually go home with their families.   These TBI patients are also able to have access to new and developing therapy techniques that were also not available in years past. This means people will be able to go further in their recovery than ever before.
However, this recovery process still takes a lot of time and a lot of hard work from the patient and also from his or her family. Many family members will be forced to take time off from work, and this can cost the family even more. This is something you should discuss with your experienced personal injury lawyer.
f you are injured in an accident in Boston, call Jeffrey Glassman Injury Lawyers for a free and confidential appointment — (617) 777-7777.
Additional Resources:
Tracy Morgan pokes fun at his traumatic brain injury in 'SNL' promo, October 14, 2015, NY Daily News, by Meera Jagannathan
More Blog Entries:

New Guidelines for Identifying Causes of Newborn Brain Injury, October 21, 2014, Boston Personal Injury Lawyer Blog